Djokovic wins record-equalling sixth Melbourne title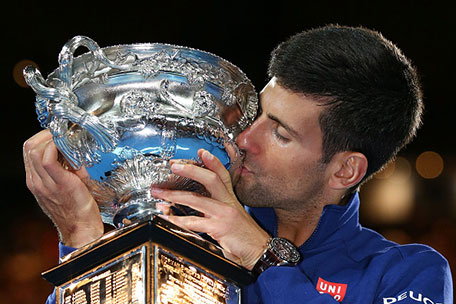 Novak Djokovic vanquished Andy Murray for the fourth time in an Australian Open final on Sunday to win a record-equalling sixth title and serve notice to his rivals that he could surpass even his stellar 2015 this year.
The Serbian's fifth crown in six years on his favourite court not only allowed him to match Roy Emerson's record Australian Open tally but also brought him level with Rod Laver and Bjorn Borg on 11 grand slam titles.
He has won four of the last five slams, 38 of his last 39 matches, and at this rate Roger Federer's record 17 is within range of the 28-year-old.
Although world number two Murray battled hard after losing the opening five games in the blink of an eye, the dominant manner of Sunday's 6-1 7-5 7-6(3) victory vindicated Djokovic's opinion that he was at the zenith of his powers.
"There's no doubt I'm playing the best tennis of my life over the last 15 months," the 28-year-old, who topped the ATP rankings for the whole of 2015, said.
"I do feel that I'm at the peak of my abilities and my career. I don't think about limiting my ambitions or what I might be able to achieve."
For Murray, distracted on his 11th visit to Melbourne Park by the illness of his father-in-law and the impending arrival of his first child, a dispiriting night ended up with a record of the wrong sort.
The Briton's defeat was his fifth in five finals at the Australian Open.
Only his former coach Ivan Lendl has lost as many at one grand slam and he at least wedged three U.S. Open titles in between the defeats.
Murray gave it everything he had in the two-hour, 53-minute baseline battle that was compelling viewing throughout an engrossing and pivotal 80-minute second set.
DELAY INEVITABLE
He was only able to delay the inevitable though.
"A lot's been going on," twice grand slam champion Murray, who was catching the first flight home, told reporters.
"I started the last couple of matches quite slowly, understandable in some respects.
"Obviously it's not good to begin matches like that against someone like Novak. But I'm proud of the way I fought and managed to get myself back into the match.
"Now I just want to get home."
Djokovic reprised the two sets of flawless tennis he played in his semi-final against Roger Federer to race to a 5-0 lead in just 19 minutes.
Murray contributed to his downfall, a double-fault handed his first service game to his opponent, but the depth and accuracy of Djokovic's groundstrokes had the Scot chasing shadows on the Rod Laver Arena.
To his credit Murray, who beat Djokovic to win the U.S. Open and Wimbledon titles and probably would have claimed several more but for the Serb, rose to the challenge.
He had chances too. He was 5-5 40-0 ahead in the second set with Djokovic under pressure before he came off second best in a spellbinding 36-stroke rally as Djokovic roared back to break before clinching a two-set lead despite two double faults.
Murray even fought back from 2-0 down in the third, but his resistance snapped in the tiebreak and Djokovic fired down his seventh ace to secure victory.
"Every grand slam title is very significant in its own way," Djokovic said. "Here, I managed to make history tonight and equal Roy Emerson's six Australian Open titles.
"I'm honoured to be mentioned alongside legends of our sport."
While Emerson's triumphs came in the pre-professional era of the 1960s when few players from the rest of the world made the long journey Down Under, Djokovic's dominance is international.
He won 11 titles including three of the four majors last year and already has a 12-0 record this season, having thrashed the other members of the "Big Four" - Rafa Nadal, Federer and Murray - to win in Doha and Melbourne.
Only Australian Laver, who was on the court named after him watching the final, has managed to win all four grand slams in one year and Djokovic would have to break his Roland Garros duck to match the feat and make more history.
He said he thought he was getting closer to winning the French Open title every time he played the claycourt grand slam but had learned not to think too far ahead.
"(I'm) very hungry (for Paris)," he concluded. "But the wolf needs to eat a lot of different meals to get to Paris. Paris is a dessert."
Follow Emirates 24|7 on Google News.