Dr A Polo team win Nexus Valentine's Cup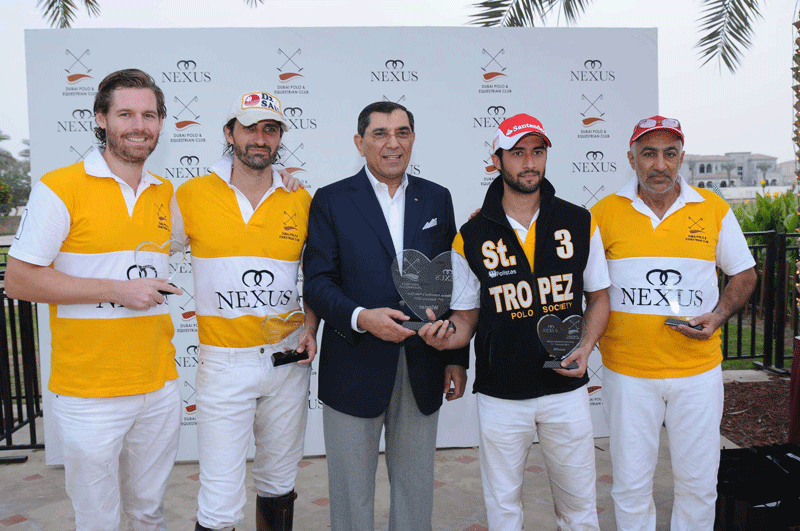 The UAE's polo-set enjoyed a world-class display of horsemanship and polo skills at the second annual Nexus Valentine's Cup on Friday, which saw five teams battling it out to the very last chukka.
The final saw Dr A Polo secure a resounding victory with a score of 10 to the Pink Panther's one at the end of an exhilarating three-day tournament at Dubai Polo & Equestrian Club in front of a 200-strong crowd that included many of UAE's social set.
Mahmoud Nodjoumi, owner and CEO of Nexus, one of the leading insurance brokerages in the region which sponsored the event, presented the 2011 Nexus Valentine's Cup to the winning team.
"The tournament has seen three days of fantastic polo with all the players showing world-class skills in a tightly-contested match which culminated in today's gripping final," said Nodjoumi.
"The Nexus Valentine's Cup has proved to be a fantastic day out for polo fans and UAE residents alike and we hope that the event will become a regular feature on the Emirate's polo calendar for years to come," he added.
"It has been a fabulous event and one we hope will be repeated next year. I would like to thank the players and the behind-the-scene teams for giving us such a spectacular game to watch and making the event an unprecedented success for both Nexus and the Dubai Polo & Equestrian Club," said Vasken Vartanian, Sales and Marketing Manager, Dubai Polo & Equestrian Club.
Funds were raised during the day for the Al Noor Training Centre for Children with Special Needs, which Nexus is pleased and proud to support.
Follow Emirates 24|7 on Google News.