Dubai sponsors Chinese national table tennis team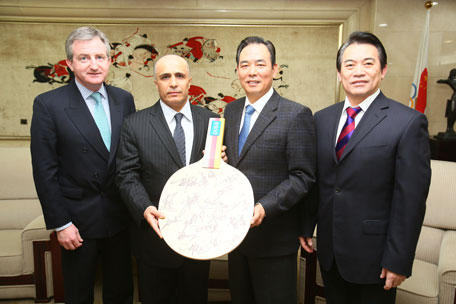 Dubai has announced its sponsorship of the Chinese national table tennis team as part of its efforts to continue to promote meaningful exchange and further growth opportunities between Dubai and China, according to a statement.

The partnership, which will see Dubai's name on the team's official clothing, will give the emirate a huge global presence, with over 100 million people in China estimated to watch the final of the World Championships every year.

Table tennis is an important national sport in China with Chinese players dominating world rankings.

In 2012, the Chinese national table tennis team participated in 34 different international tournaments, and networks such as Eurosport, Star Sports and ESPN all feature extensive coverage of these major events.

A Dubai delegation led by Mattar Al Tayer, Vice-Chairman of the Dubai Sports Council, travelled to Beijing this week to finalise the agreement between the Government of Dubai and the Chinese Table Tennis Association, as facilitated by Falcon and Associates.

Al Tayer Dubai Sports Council, said: "The United Arab Emirates and China already have close ties across many sectors including business, arts and culture, and sports. With this in mind, we are pleased today to further strengthen this existing cooperation by signing an agreement to sponsor the esteemed Chinese national Table Tennis Team; a sponsorship that will enable us to achieve the various set objectives that we have in common."

"Dubai has also built a strong reputation as a global hub and destination for high profile, high-impact international sporting events which, in recent years, have included the Table Tennis World Cup Team Championships in 2010, and the Table Tennis Grand Prix in 2011. China's participation in, and success at these events served as a precursor to this new partnership, one which we hope will evolve and grow in the future," he added.

In support of this international cooperation, Zhenhua Cai, Deputy Minister of the General Administration of Sports, China, met with Dubai's delegates at the State's General Administration of Sports prior to the press conference and said: "This partnership between Dubai and the Chinese national table tennis team is bound to have a profound impact on strengthening the friendship and collaboration between China and UAE in the field of sports. This cooperation will further enhance traditional friendship and shape a bright future between the two countries."

John Ferguson, Chairman of Falcon and Associates, said: "Dubai's relationship with China is important today and is set to become even more important in the future. China is a major trading partner, and there are increasing social and cultural exchanges. Supporting table tennis, which has played an important role in the modern history of China, demonstrates the importance Dubai places on its relationship with China."

Over 200,000 Chinese tourists visited Dubai in 2011 and Dubai is already home to over 200,000 Chinese residents. As Dubai's second largest trading partner, the relationship is expected to grow considerably over the next 10 years.


Follow Emirates 24|7 on Google News.