Emirates face ADCB in Emirates Open Polo final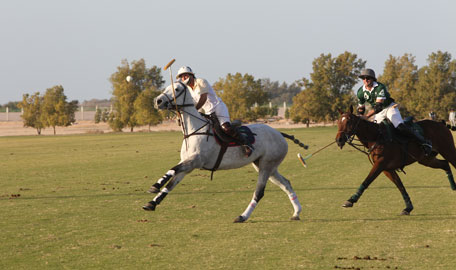 Emirates Polo team earned the second spot in the final of the Emirates Open Polo Championship on Wednesday thanks to a golden goal from Gonzalo Azumendi in extra time.
Emirates will now face ADCB in the final on Friday, while last year's champions, Ghantoot, will have to hope for better when they compete in next month's HH President's Polo Cup at the Abu Dhabi club.
Ghantoot ended two of the four chukkers in the lead but could not consolidate their advantage.
The hosts took the early lead in Wednesday's clash with both Nasser Al Dhaheri and Ramiro Cordero scoring. Emirates went into the second chukker trailing by a goal after Azumendi was the side's sole scorer in the opening period. Azumendi equalised in the second period and the two sides went into the third chukker all square.
Al Dhaheri, Bruno Tassara and Cordero all scored for Ghantoot in the third chukker while Oscar Colombres, and Azumendi also scored for the opposition, bringing the scores to 5-4 to Ghantoot.
In the final chukker Cordero scored twice, Colombres matched him and Azumendi claimed one to leave the score at 7-7 at the final claxon. In extra time Azumendi scored his fifth and final goal of the night to seal victory and a place in the final for Emirates.
"Every match in this tournament has been very close," said Azumendi afterwards. "The difference between winning and losing has been just one or two goals all the way through and tonight was another example of how closely-fought all our matches have been.
"We are very pleased to get through to the final and now face the task of beating ADCB on Friday in order to claim the trophy."
Held under the patronage of Sheikh Falah bin Zayed Al Nahyan, Chairman of Ghantoot Racing and Polo Club, the final of the Emirates Open Polo Championship will take place on Friday.
All matches are open to the public and free to attend.
Follow Emirates 24|7 on Google News.