F1: Hamilton crashes on first day with Mercedes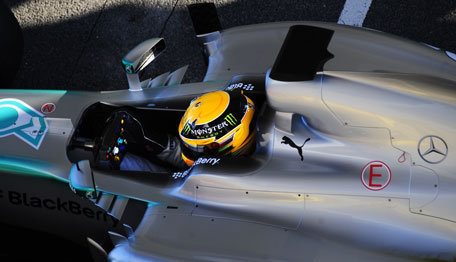 Lewis Hamilton suffered a brake failure on his first day behind the wheel of his Mercedes on Wednesday, but insisted he had survived more horrifying smashes.

The 28-year-old 2008 world champion, was on his 15th lap when he careered off the Jerez track and into a tyre barrier having just moments earlier reached speeds of between 260kph and 300kph.

"I hit the brakes and in a split-second they didn't work. The pedal went down and nothing happened, so I just braced for the impact," said Hamilton, after the accident which took place on the second day of pre-season testing.

"I am alive. I have had many experiences like this. At Nurburgring, the wheel came off and that was a lot more painful. There have been a lot of crashes like this and I have always bounced back."

Mercedes, who had seen Nico Rosberg only able to complete 14 laps before calling it a day on Tuesday, following electrical problems that caused a minor fire, decided not to run again on Wednesday.

Rosberg is expected to resume testing on Thursday while Hamilton is scheduled to be back on Friday.

Despite his crash, Hamilton still posted the sixth-fastest time of the day with 1min 19.519sec.

Lotus driver Romain Grosjean was the quickest man on the circuit, clocking 1min 18.218sec off 94 laps with Force India's Paul di Resta and Daniel Ricciardo, in a Toro Rosso, the third fastest.

Mark Webber, in the Red Bull, was fourth, just ahead of fifth-fastest Nico Hulkenberg in a Sauber.

"I did the best time on soft tyres. I am happy because the car this year is a little better than last year's in every aspect," said Grosjean.

Di Resta admitted he had made a lot of progress with the Force India after putting in 95 laps.

"Testing is a good chance to make bigger changes than you would make during a race weekend and that's allowed us to really see how they affect the car and has given us valuable data on tyre performance," he said.

"The handling of the car so far is good and I'm feeling comfortable after two days in the car."

Hamilton's successor at McLaren, Sergio Perez, who left Sauber at the end of last season, also got his first day out on the track, 24 hours after teammate Jenson Button had set the fastest time.

"It was a very good day," said the Mexican, who was down in seventh place.

"We were able to get a lot of work done. I feel great with this team, everyone has done their utmost to make me feel welcome and I am very luck to be able to work with a driver like Jenson."

Follow Emirates 24|7 on Google News.