Ferrari unveil 'sexy' SF15-T to power team back to F1 glory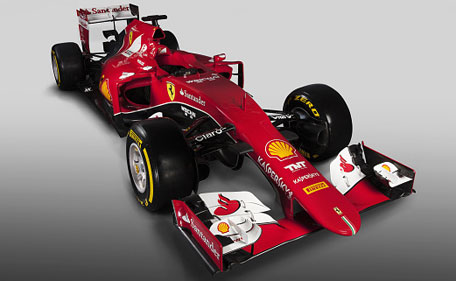 Ferrari unveiled their car for the new season on the internet Friday, the legendary Italian stable counting on the SF15-T to bring back the glory years after a miserable 2014.

Fernando Alonso's lowly ninth place in the season-closing Abu Dhabi Grand Prix completed a wretched year for the men from Maranello, their first winless season since 1993.

Ferrari's lacklustre performance in taking only fourth in the constructors title race triggered sweeping changes at their Italian HQ in a bid to put the team back at the top of Formula One.

In November, team chief Marco Mattiacci was sacked after just seven months in the post with Maurizio Arrivabene appointed in his place.

That switch came days after Red Bull's four-time world champion Sebastien Vettel was signed on a three-year-contract to replace Alonso after the Spaniard's move to McLaren.

Vettel links up with Kimi Raikkonen, the Finn who clinched Ferrari's last world championship in 2007.

In December, Mexican Esteban Gutierrez was lured from Sauber along with out-of-work former Torro Rosso driver Frenchman Jean-Eric Vergne as test and reserve drivers.

Vettel and Raikkonen will go into battle against Mercedes' world champion Lewis Hamilton in the aggressive-looking SF15-T, which features a long protruding nose.

A major overhaul of the car's engine has been undertaken in a bid to reel in last season's runaways champions Mercedes.

The car, the concept of British designer James Allison, will have its first official runout in the first batch of pre-season testing at the Spanish circuit of Jerez starting on Sunday.

The 2015 F1 season gets underway with its traditional curtain-raiser in Melbourne on March 15.

Approval

Vettel gave Ferrari's new Formula One car his seal of approval on Friday while warning fans not to expect too much from a team that made major changes after failing to win anything last year.

"Obviously there is a change in colour for me so it's a new experience but I think the car looks beautiful," said the four- times world champion, who has joined from Red Bull, after the SF15-T car was unveiled online.

"There is a lot of change going on, a lot of new people in new positions including myself, and it always takes a bit of time to settle in," added the German in an interview on the Ferrari website.

"I'm confident that we are going in the right direction but I think it would be wrong to immediately expect a lot of us."

Ferrari, the most successful and oldest team, finished fourth last year as dominant Mercedes won 16 of the 19 races.

Red Bull's Australian Daniel Ricciardo took the others and eclipsed Vettel along the way.

"We need to remember we are coming from a 2014 season where there was one team very dominant so it will be difficult to be right there from the beginning," Vettel said.

"I think for us the main target is to start to really work together, start to make progress and hopefully catch up more and more as the season progresses.

"If the situation is like last year, it will be very difficult to really fight for victories but of course it is our goal and that's why we're here."

The latest, Maurizio Arrivabene, took over in November and said last month that he would be happy if Ferrari won two races this year.

"I am just realistic," he said on Friday. "We are committed at least to win two races."

The Italian said the new car, with a swooping nose in place of the 'broken' 2014 one, certainly looked a winner.

"Enzo Ferrari said a long time ago that the best car is a winning car. Last year we had an ugly car that was a non-winning car. I like this year's car…I don't know about the performance but it's really sexy," he said.
Follow Emirates 24|7 on Google News.