Floyd Mayweather tells Manny Pacquiao on Instagram video: 'We have to make this fight happen'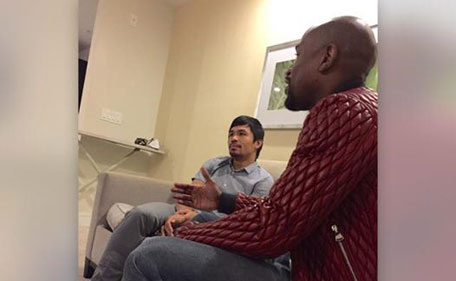 WBC and WBA welterweight champion Floyd Mayweather has shared a video on Instagram where he is seen telling Manny Pacquiao "we have to make this fight happen."
[VIDEO] FLOYD MAYWEATHER TO MANNY PACQUIAO: "BEFORE WE LEAVE THE SPORT...WE HAVE TO MAKE THIS FIGHT… https://t.co/JHu63xPlSN #fighthype

— FIGHTHYPE.COM (@fighthype) February 8, 2015

The $200 million mega fight between Filipino boxing legend 'Pacman' Pacquiao and unbeaten American Mayweather seems to be gathering momentum finally with this latest revelation.

"I congratulate him (Pacquiao) on his career, he had a wonderful career, and I have had a wonderful career, but before we leave this sport of course we have to make this fight happen," Mayweather says in the video clip.

And he wrote: "From the looks of this video... I'm telling Manny Pacquiao that we have to give the world this fight."

The duo met privately in Filipino star's Miami hotel suite two weeks ago after coming face-to-face during a basketball match hours earlier.

Pacquiao hopes to have an answer from Mayweather this week after HBO and Showtime reportedly agreed on how they would broadcast the richest fight in boxing history, promoter Bob Arum said on Thursday

Arum told The Associated Press the rival networks have come to terms on an announcing team and other details for the pay-per-view blockbuster, and that talks this week have narrowed the remaining differences between the Mayweather and Pacquiao camps.

Mayweather fights under contract to Showtime, and Pacquiao to HBO, and there was speculation the networks could hold up the fight by not coming to terms themselves.

"We had four issues and we resolved two," said Arum, who promotes Pacquiao. "Now we're working on resolving the other two. Unless something else comes up at the last minute, that's what my take is."

Mayweather's representatives have dictated most of the terms of the fight, and Arum said Mayweather will be the one to announce it if it is made.

Arum said the major financial points of the fight have been agreed to, including a reported 60-40 split in the purse in Mayweather's favour.

Based on the fight doing a record $200 million or more in revenue, Mayweather's payday could be at least $120 million.

An announcement has yet to be made as to whether the fight will take place in Las Vegas on May 2, but Pacquiao told Fox News Sunday: "I'm thinking passionately that the fight will happen.

"Hopefully this week we will hear from them and fix the fight."

Pacquiao had previously issued an ultimatum to Mayweather demanding an answer by the end of January.

That deadline has passed but Mayweather's post indicates a deal could yet be struck.

If it doesn't happen, Mayweather will fight Miguel Cotto while Pacquiao could face Amir Khan later in May.
Follow Emirates 24|7 on Google News.