Foreign player exodus as Japan battles nuclear crisis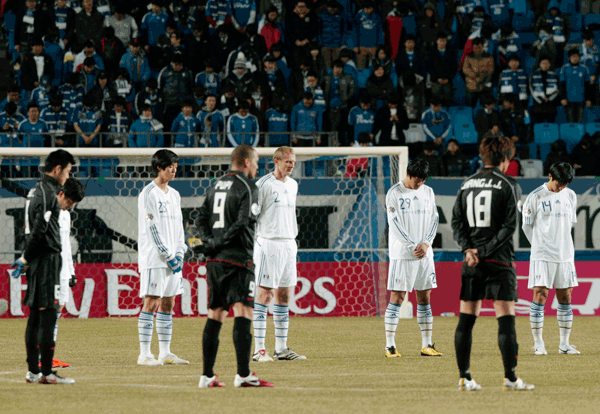 Overseas athletes plying their trade in Japanese sports leagues were starting to leave the country as it battled to avert nuclear disaster on Thursday, local media reported.
Last Friday's catastrophic 9.0 magnitude quake and tsunami that followed claimed thousands of lives and crippled a nuclear plant 240 km north of the capital Tokyo, sparking fears of health risks from radiation leaks.
With the country struggling to deal with what Japanese Emperor Akihito described as a crisis "unprecedented in scale", professional sport in the country has largely come to a standstill. .
Five American baseball players playing for the Yokohama BayStars were all due to depart for the United States on Thursday, although officials said they would return next week.
"These guys have rarely experienced earthquakes," Yokohama manager Takao Obana told Kyodo news agency. "It's understandable that they want to go home."
The Kyodo report said foreign players at the Seibu Lions club, who are based in a commuter city west of Tokyo, had been refused permission to leave the country as there was no threat to their health.
Nippon Professional Baseball has yet to announce whether the new season would begin on March 25 as scheduled.
Basketball's bj-league, where foreigners make up a third of the players, cancelled all fixtures last weekend and officials have not decided when the season will be resumed.
Several members of the Tokyo Apaches team were also heading back home to the US, and not just because of fears for their own safety.
"It is a very difficult time right now as I am having mixed emotions about leaving," American Darin Satoshi Maki, a point guard for the Tokyo Apache told the Japan Times.
"Avoiding conflicting reports, blackouts, supply shortages, transportation issues and aftershocks altogether might be best. Plus all I am doing here is consuming food and electricity.
"I will be leaving for Los Angeles on Thursday and I know my family will be relieved to see me, but if I get the call that our season is starting up again, I will be on the first thing smoking."
Australian soccer international Jade North, who had just signed a deal to play for FC Tokyo when the earthquake struck, was instructed by his J League club to leave the country and return home on Wednesday.
"So far they've cancelled all of the March fixtures in the J League and no one knows what'll happen then," the defender told the Adelaide Advertiser.
"But I've had a great time before the earthquake struck. It's a really good club and I want to come back once things have started to calm down."
The Japan Football Association on Wednesday cancelled an international friendly against Montenegro scheduled to take place in Shizuoka on March 25 but are still hopeful the Asian champions will take on New Zealand in Tokyo on March 29.
If the New Zealanders decide against travelling, a charity match against a local team will be played instead.
National team coach Alberto Zaccheroni returned home to Italy with his four assistants after the earthquake but has pledged to be back in Japan for the match.
"We see this charity match as a gesture and want it to be the first step to aid the recovery of the victims," he said in a statement.
Japan's national swimming championships, a trial for the world championships and scheduled to take place in Tokyo in early April, was the latest event to be cancelled the venue was damaged by the earthquake, Kyodo reported.
Impact of Japan earthquake on sport
SOCCER
* Despite hopes international friendlies against Montenegro on March 25 and New Zealand four days later might go head to "rally the nation", the Japan Football Association (JFA) decided on Wednesday to cancel the former with a decision to be made on the latter on Thursday.
* The domestic J League was postponed indefinitely on Tuesday after first and second division clubs held an emergency meeting at the league's headquarters in Tokyo.
* Asian Champions League fixtures between Nagoya Grampus and Al Ain of the United Arab Emirates at Mizuho Track and Field Stadium (Tuesday) and Kashima Antlers and Sydney FC of Australia at Kashima Stadium (Wednesday) were postponed.
* National team coach Alberto Zaccheroni and his four assistants flew back home to Italy last Saturday after their relatives grew concerned.
* Some 150 students and staff at the JFA academy near Fukushima were evacuated for fears of a radiation leak nearby.
MOTORCYCLING
* The Japanese round of the MotoGP championship, scheduled to take place at Motegi on April 24, was postponed until October 2, the International Motorcycling Federation (FIM) said on Tuesday.
* Honda Racing Corporation head Shuhei Nakamoto said its MotoGP programme could also be hit by the quake owing to limited working hours imposed by power cuts and suppliers also suffering difficulties.
FIGURE SKATING
* The world championships scheduled for March 21-27 in Tokyo postponed by the International Skating Union (ISU) said on Monday due to "the continued critical developments in Japan". The event may be cancelled.
* The world team cup, scheduled to take place in Yokohama from April 14 to 17, has also been called off.
ATHLETICS
* Nagoya International women's marathon, a qualifying race for the World Athletics Championships in August and scheduled to take place last Sunday, was cancelled.
GOLF
* A Japanese LPGA event in Kochi was scrapped while next weekend's event in Kagoshima has also been called off.
ICE HOCKEY
* The five-game Asia League championship finals between the Tohoku Free Blades and South Korea's Anyang Halla was cancelled. Three games were scheduled to take place in Koriyama, Fukushima Prefecture.
BASEBALL
* Nippon Professional Baseball met on Tuesday and are considering delaying the scheduled March 25 start of the Japanese baseball season.
BASKETBALL
* The bj-league cancelled all fixtures last weekend and a decision was pending on when the season would resume.
* The eight-team JBL league cancelled the rest of their season after the quake.
SWIMMING
* The national swimming championships, a trial for the world championships and scheduled to take place in early April, were cancelled on Wednesday because the Tokyo Tatsumi International Swimming Centre venue was damaged by the earthquake, the Japan Swimming Federation (JSF) said on Wednesday.
* The JSF hopes to stage the event from April 9 to 11 in Hamamatsu, Shizuoka Prefecture.
* The national synchronized swimming championships, scheduled to take place in early May at the same Tokyo venue, have also been cancelled.
Follow Emirates 24|7 on Google News.