Formula One: Mercedes will not end Hamilton-Rosberg rivalry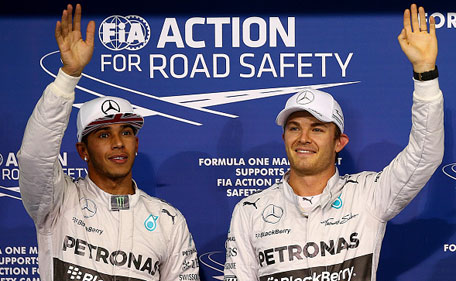 Mercedes will not try to halt the fierce rivalry between Formula One world champion Lewis Hamilton and Nico Rosberg, team boss Toto Wolff told AFP.

The feud that came to a head when Rosberg drove into Hamilton on the second lap of the Belgian Grand Prix at Spa-Francorchamps last August was good for Formula One, Wolff said in an interview.

But the British and German rivals must not cross the line of what is acceptable again.

"We are not going to change our approach in terms of philosophy on how to let the drivers race. Even if it is not always easy.

"For us, for our brand, for Formula One, it was important to let them fight, one against the other," the executive director of the Mercedes AMG Petronas team said of the Hamilton-Rosberg duel that marked 2014 and is about to resume.

Wolff said Mercedes had understood going into the Belgian race that the rivalry was reaching a peak. He indicated that the team felt there had to be some kind of confrontation to clear the air.

"If you have no emotion in this sport, if you stay rational all the time, you lose a lot and the sport loses a lot and the way we run the team is with emotion.

"What happened in Spa, we were very conscious that we could have this situation. We have a conscious approach, just about controlled, because we knew what we wanted as an outcome. What we wanted was that it did not happen again," Wolff said.

"All the communication, all the reaction after Spa took this into account," he added.

A storm erupted when Hamilton, who retired before the end, said after the Spa race that Rosberg had told him the crash had been deliberate.

Wolff said at the time that the rivalry had reached "an unacceptable level of risk" and that it was costing Mercedes points.

Rosberg was punished but the team never announced what sanctions were taken.

"For us this was an event quite detrimental for the brand and this was what we communicated," Wolff said in the interview.

But he insisted that the Mercedes action at the time had worked.

"The fact that we did not lose a race after, that we were one two for the next five races, justified what we did, not that we were perfect."

Hamilton, who went on to win his second title, said before heading to the season-opening Australian Grand Prix on Sunday that he thought he developed an "impenetrable" mental attitude in 2014 and he was determined to have an even better 2015 season.

Pundits say Mercedes are again hot favourites for the title and Wolff hinted that the team cars had not been stretched during pre-season training.

"The programme we set before the test, was to be reliable ... the test of the systems. And when it is important to show our performance will be the first Sunday at Melbourne and not during tests."

The team boss also insisted that any changes to Formula One cars had to be carefully negotiated and that teams must stop being negative about the sport.

"Nobody wants short term changes that could have negative effects in terms of cost," he said.
"We must all, in Formula One, who are responsible for Formula One, stop to talk negatively about a product that is not negative."

"We know that every sport, every product can be improved,. There are certainly aspects that we can improve a lot but we are also a global sport.

"We are the number one auto racing sport in the world and we must promote and support this image."

Formula One teams have reacted to a wave of criticism over the lack of noise produced by the new V10 engines by developing biggest exhausts and a more dramatic sound.

Wolff said it was "a good noise" because the decibels of the previous engines put off families.
"Now it is a fantastic noise. It is a good mix."
Follow Emirates 24|7 on Google News.