Ghantoot lift Golden Cup trophy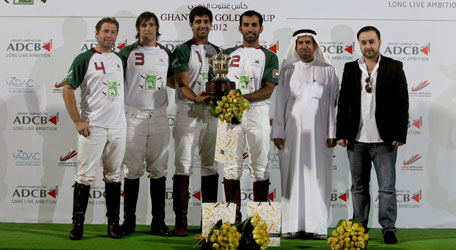 Ghantoot polo team romped undefeated through the club's first competitive tournament of the year on Friday to be crowned Golden Polo Cup champions.
Their opponents, Abu Dhabi Airports Company (ADAC), had sealed their place in the final thanks to victory over Abu Dhabi Commercial Bank (ADCB) earlier in the week.
The tournament had featured high-scoring and fast-paced games throughout the preliminary matches.
In the final the teams were more tentative but the Ghantoot team proved the stronger, putting the match to bed by the end of the third chukker.
The clash started with both sides scoring a goal apiece courtesy of Nasser Al Dhari for Ghantoot and Hugo Barabucci for ADAC.
Jorge Cernadas followed up with Ghantoot's second goal in the second chukker, while Oscar Colombres, the tournament's leading goal-scorer scored two in the third period.
The fourth chukker did not yield any more goals for Ghantoot, but the hosts had done enough and Ahmed al Neiaimi's score in the final period came as a welcome consolation to the losing side.
"It has been a very good tournament," said Colombres. "We said at the start that our plan was to play cohesive, open polo and operate well as a team and I think we have done that.
"Our opponents have all been very skillful players and we knew that if we just turned up as individuals we would not be able to get the better of them on the field. It's very gratifying to win and now we are just looking forward to the next tournament."
Held under the patronage of Sheikh Falah bin Zayed al Nahyan, chairman of Ghantoot Racing & Polo Club and presented by ADCB, the Golden Cup is the traditional start to the polo season at the Royal polo venue.
The club will next host the Emirates Open Polo Championship from January 14-20.
Follow Emirates 24|7 on Google News.