Grizzlies stun Spurs in playoffs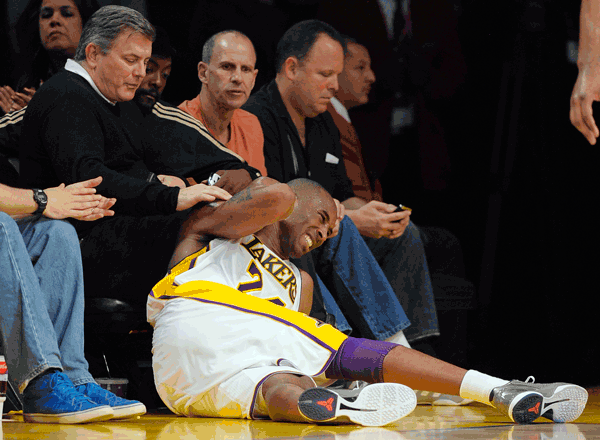 The New Orleans Hornets shocked the two-time defending NBA champion Lakers and upstart Memphis edged top-seeded San Antonio on Sunday in a pair of Western Conference playoff opener upsets.
Seventh-seeded New Orleans beat the Lakers 109-100 and Memphis defeated the Spurs 101-98.
The day's Western Conference action was to wrap up later with Oklahoma City hosting Denver.
Chris Paul had 33 points, 14 assists and seven rebounds for the Hornets as they seized the initiative over the Lakers in the first game of their best-of-seven series.
"Our defence was late. We were late on everything," Lakers coach Phil Jackson said. "They were aggressive and beat us to balls."
Memphis posted their first-ever NBA post-season win by stunning the top-seeded Spurs at the AT&T Center arena.
Zach Randolph scored nine of his 25 points in the fourth quarter for the eighth-seeded Grizzlies, who were making their first playoff appearance since the 2005-06 NBA season.
Marc Gasol finished with 24 points and Mike Conley had 15 points and 10 assists for Memphis, which finished with a 46-36 record in the regular season.
The Grizzlies earned their first playoff win since coming into the league as an expansion team in Vancouver, Canada, 16 years ago.
"It's nice from an annoyance perspective to have it out of the way, because I don't have to answer questions about being 0 and 13," Grizzlies coach Lionel Hollins said.
They were swept by San Antonio in four games in the 2004 playoffs.
Memphis was behind in the final minute of the game when Shane Battier nailed three-pointer with 23 seconds left, giving Memphis a slim 99-98 lead.
San Antonio tried to force overtime, but Richard Jefferson missed a long range shot as the clock ticked down.
Memphis players raced onto the court as the buzzer sounded to celebrated their first playoff win in 13 attempts.
Battier was with Memphis when they were swept by San Antonio seven years ago.
"It was awesome. I'm really happy for the city," Battier said. "Beale Street will be a fun place tonight. Most of these guys don't know the history or the heartache that the city has gone through. I'm happy for the city."
France's Tony Parker led San Antonio with 20 points. Tim Duncan had 16 points and 10 rebounds for the Spurs, who lost their sixth straight playoff series opener.
But the Spurs were forced to play without all-star guard Manu Ginobili who sat out with a sprained right elbow. Ginobili was injured during the final game of the regular season against Phoenix.
He will be re-evaluated by doctors to see if he can play in Wednesday's game two of the best-of-seven series.
George Hill started in Ginobili's place but shot just two-of-seven and finished with 15 points.
The Spurs were six-of-15 from the three-point line.
In Los Angeles, Paul scored 17 of his 33 points in the fourth quarter, Carl Landry chipped in with 17 and Jarrett Jack had 15 for the Hornets, who tied a NBA playoff record with just three turnovers.
"I've struggled all season long, trying to figure out where to pick my spots," said Paul. "It's the playoffs. It's a whole other energy."
Kobe Bryant had 34 points for the Lakers, who swept all four games against the Hornets during the regular season.
The Hornets game plan on defence included effectively shutting down the Lakers' big men Andrew Bynum and Pau Gasol.
Ron Artest finished with 16 points and 11 rebounds while Gasol shot a disappointing two-of-nine from the field and finished with just eight points. Bynum had 13 points.
Game 2 is Wednesday at Staples Center.
Gasol, who was the toast of the town after the Lakers' championship playoff run last season, heard some boos on Sunday.
"I'm disappointed, yeah. Stunned, surprised," said Gasol, sporting a bandage over his eye after being cut earlier in the game. "But we were the ones responsible for that to happen, so we have to own up to that and come back to work in the next couple of days and get the series where we want it to be."
Follow Emirates 24|7 on Google News.