Hamilton unhurt after starting new F1 turbo era with a crash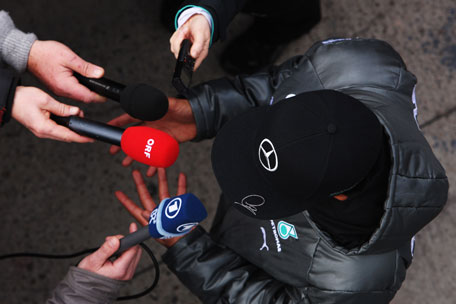 Lewis Hamilton crashed his Mercedes, world champion Sebastian Vettel failed to complete a timed lap and McLaren's car stayed in the garage as Formula One's new turbo era endured a difficult, and strangely quiet, birth on Tuesday.

Twin black streaks of scorched tyre rubber marked the asphalt at the end of the Jerez pit straight where Hamilton locked up and careered into the tyre wall after a front wing failure on the first day of pre-season testing.

The 2008 champion was unhurt in the crash, on his 18th lap after being first out of the pit lane following the unveiling of his sleek silver F1 W05 car, but it ended his team's track activities for the day.

"Apart from the ending, it's been quite a positive day," said Hamilton, who said it was way too early to give any assessment of the car.

"Always when you crash it's big, but it's OK. I was able to walk away, no problems," he told reporters.

Vettel's work at the wheel had not even started at that point, Red Bull's quadruple champion kicking his heels while the team fixed setup problems which had emerged overnight with their new RB10.

The German eventually emerged, after a brief squall of rain, for one installation lap.

Fans who had paid for tickets got scant value for money, with only 93 laps completed by eight of the 10 teams present on a cold day in southern Spain.

Kimi Raikkonen, returning to Ferrari after winning the championship with them in 2007, accounted for 31 laps after bringing out the first red flag of the day when he stopped on track early on.

That compared to a total of 657 laps run on the opening day of testing last year and 718 in 2012.

"We want to do more laps but it's pretty normal with such a big change," the Finn told reporters. "It will take a little time before we can run 100 percent the whole time and be confident we don't have any issues."

MCLAREN SIDELINED

Formula One has ditched the ear-splitting 2.4 litre V8 engines for a new turbocharged 1.6 litre V6 with complex energy recovery systems and more emphasis on fuel economy.

Reliability is a major concern and times were therefore of no relevance as teams focused on troubleshooting rather than performance.

Hamilton had also crashed last year in Jerez in his first test for Mercedes after moving from McLaren, whose troubles continued after a 2013 season to forget.

The Woking team, who had hoped to have Jenson Button on track, said they had been hit by electrical issues that led to the dismantling, inspection and re-installing of several major components.

Tail-enders Marussia and Caterham also hit unexpected turbulence.

Marussia's car was still on its way to Jerez after being delayed at the factory on Monday by what team principal John Booth called a "small but frustrating teething problem".

Malaysian-owned Caterham delayed their car presentation due, according to their Twitter feed, to "some last minute issues bolting it together" but finally made it out on track.

With a thin new moon still visible over the circuit, Hamilton had got the new era rolling shortly after 0900 local (0800 GMT) for an installation lap before silence resumed.

Mercedes, who carried out a private 40km shakedown at Silverstone with Germany's Nico Rosberg on Friday, presented the car in the pitlane shortly after dawn with champions Red Bull taking the wraps off their RB 10 challenger minutes later.

While some of the new cars have been startling in appearance, with eye-catching protruding 'noses' to meet new regulations dictated by safety considerations, the top two teams from 2013 came up with neater solutions.

"The new car is an elegant but aggressive design and, as is often the way, it's beauty is much more than skin deep," commented Mercedes technical executive director Paddy Lowe.

"The internal engineering of the car is extremely innovative and intelligent."
Follow Emirates 24|7 on Google News.