'I confess' - five great sports 'mea culpas'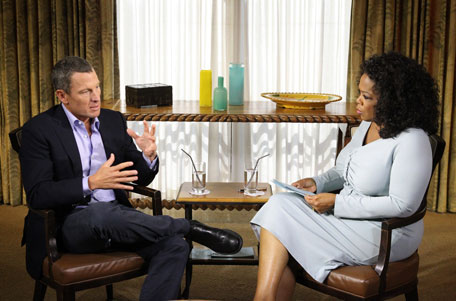 US rider Lance Armstrong will admit doping during his cycling career in a television interview with Oprah Winfrey to be broadcast on Thursday, the chat show host has confirmed. Here are five other memorable sports confessions:

TIGER WOODS (Golf)

- US superstar Woods's carefully stage-managed good-guy image was shattered for ever thanks to a car crash outside his Florida home in November 2009. That led to a string of scandalous revelations over his private life which revealed him to have been a serial cheat with a bevy of actresses, strippers and waitresses.

Woods went on national television, apologising to wife, Elin, and his mother, Kultida.

"I hurt them the most. Those are the two people in my life who I'm closest to, and to say the things that I've done, truthfully to them was very painful. I was living a life of a lie. I really was. And I was doing a lot of things, like I said, that hurt a lot of people."

ANDRE AGASSI (Tennis)


- Eight-time Grand Slam title winner Agassi retired in 2006 but in 2009 stunned tennis by using his autobiography to confess to having taken the drug crystal meth. Equally shocking was his revelation that he had escaped a ban by convincing the ATP that he had taken it accidentally.

"It was full of lies, interwoven with the truth," wrote Agassi, when he described his letter written to the ATP seeking clemency.

Agassi, who is married to former women's world number one Steffi Graf, also admitted that he secretly hated playing the sport which brought him untold fame and fortune.

HANSIE CRONJE (Cricket)


- South Africa captain Cronje admitted to accepting bribes from illegal bookmakers to influence matches when he appeared at the King Commission probing corruption in cricket.

"My great passion of the game and for my team-mates was matched by an unfortunate love of money," said Cronje who was banned from the game for life in October 2000, six months after New Delhi police accused him of taking money from Indian bookmaker Sanjeev Chawla.

Two years later, on June 1, 2002, he was dead aged 32 when a light plane in which he was travelling crashed into the mountains near the South African coastal town of George in bad weather.

MARION JONES (Athletics)


- In 2008, five-time Olympic medallist Jones appeared on the Oprah Winfrey show having just served a six-month jail sentence for lying to federal investigators about her drug use and her part in a cheque fraud.

In a tearful performance, the American, caught up in the BALCO scandal, insisted she had no idea she was being given a performance-enhancing drug by her coach, maintaining she thought it was just a supplement.

"I didn't love myself enough to tell the truth," she told Winfrey.

Of her time in prison, she added: "There were moments, Oprah, where I felt like my world was over. But there were remarkably days where I just felt empowered, almost. It's almost like I got this renewed energy where I felt that: 'I'm here for a reason.' The searching for that reason, I think, is what really changed my life."

DAVID MILLAR (Cycling)


- British cyclist Millar, once banned for two years for using the banned blood booster erythropoetin (EPO), has since become a vocal anti-doping campaigner.

In his autobiography, "Racing in the Dark", the man who once wore the famed Tour de France leader's yellow jersey, wrote: "The moment I was caught I was fired and they didn't bat an eyelid. I was so very unimportant in the big scheme of things.

"I had built up this scenario in my mind that I had to win for Cofidis, that upwards of 70 jobs might depend on me delivering the goods, and to be honest that is why I eventually succumbed and started doping."


Follow Emirates 24|7 on Google News.