India's new cash-rich hockey league praised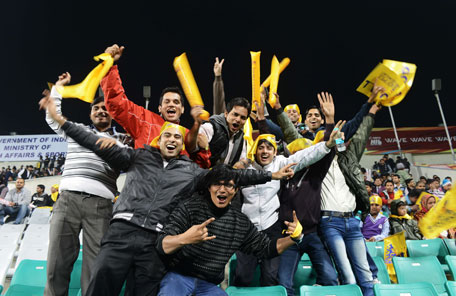 The money-spinning Hockey India League has made a promising start in its first season, drawing the world's top stars, a dash of Bollywood glamour, live television coverage and reasonable crowds.

The tournament, sanctioned by the sport's world governing body and inspired by cricket's popular Twenty20 leagues, has helped raise the profile of hockey in India and given the sport a new and innovative platform.

Organisers say crowds for the flood-lit night-time matches have averaged around 3,000 a match since the start on January 14 with knock-out games leading up to the final on February 10 still to come.

The host broadcasters, ESPN-Star network, estimated a combined TV viewership of 15 million for the first six matches, adding that the figure surpassed other sports events like India's domestic football league.

The money has been pumped in by top Indian business groups such as conglomerate Sahara, a long-time sponsor of sports in India, and construction group Jaypee, which built the country's Formula One Grand Prix circuit.

"The HIL is the best thing to happen for the sport," India's Australian coach Michael Nobbs told AFP in an interview. "Its profile has gone up and players are getting their due."

The teams splurged heavily at an auction in New Delhi in December, paying out sums that are much smaller than cricketers' salaries but were unheard of in hockey.

Indian captain Sardar Singh, who is not paid match fees when he turns out for his country, was picked up by the Delhi Wave Riders franchise for $78,000 per tournament over the next three years.

Moritz Fuerste, the International Hockey Federation (FIH) player of the year for 2012 after helping Germany win two successive Olympic golds in Beijing and London, went to the Ranchi Rhinos for $75,000.

But some commentators question whether the initial enthusiasm of sponsors and fans can be sustained.

Tickets have been given away free to spectators, some of whom were drawn by entertainment acts such as Bollywood heart-throb Akshay Kumar who performed at a game on Tuesday night.

And the format can also be repetitive, with the five teams playing each other in a league before semi-finals involving four of them.

"Hockey in India has been so inconsistent, both in administration and performance, that one can't be sure of what the future holds," Shailendra Singh, who heads the Percept communications group, says.

"But if everyone gets their act together, HIL will be great for the sport," he added during a TV discussion on TV-18 television network this week.

The players, unused to being in the spotlight outside major events like the Olympics or the World Cup, are delighted at the opportunity to contest for prize money of $1 million.

"Its good money for a month's work and the league is a great idea," Australian star Jamie Dwyer, who was sold for $60,000, told AFP.

"Its been a good experience mixing with players from other countries and learning a few tricks from them."

Pakistan is the only major hockey-playing nation not represented in the HIL after their nine players were withdrawn due to security concerns in the wake of protests following recent border tension with India.

"Over the years if the tournament grows, the hockey world will look up to the HIL as a platform for the best players to take part in," senior sports writer Ayaz Memon told AFP.

"But for now, it is essentially an event to promote the sport in India. And revival of hockey in our country is badly needed."

India, who won the last of their eight Olympic field hockey gold medals at the Moscow Games in 1980, failed to qualify for the Beijing Games in 2008 and finished last in London.

HIL matches are played over four quarters of 17-and-a-half minutes each, instead of the traditional two halves of 35 minutes each, to leave time for TV advertisements.


Follow Emirates 24|7 on Google News.