Khan v Peterson rematch set for May 19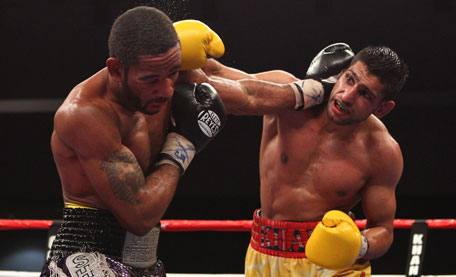 Amir Khan will fight Lamont Peterson on May 19 in Las Vegas after the Briton was granted his wish for a rematch after his controversial loss to the American last December, his promoter said on Thursday.
Khan lost his WBA super-lightweight and IBF light- welterweight belts in Lamont's home city of Washington in December on a split decision having been docked two points by the referee for pushing.
His camp criticised the referee's actions and were shocked by television replays showing a mystery man in a hat talking with a judge ringside, prompting the WBA to order a rematch.
The 'mystery man' was identified as Mustafa Ameen, who is an IBF volunteer helping cash-strapped boxers. He denied interfering with the judges' scorecards.
"This one is hopefully going to clear up all these question marks," Richard Schaefer of Golden Boy Promotions told Britain's Sky Sports News.
"It's going to be in the fight capital of the world in Las Vegas. It's going to be at the Mandalay Bay. The date is going to be May 19.
"It was a tough one. This one here was a really difficult, drawn-out negotiation. we have a deal, we are all set. This is going to be a big, I mean a very big fight."
Khan, who has agreed to a 50/50 split on worldwide revenues after contracts were exchanged, spoke to Sky just before the deal was reached.
"(Peterson) is a great fighter but I think I do deserve the rematch," the 25-year-old said.
Peterson's camp were not immediately available to comment.
Follow Emirates 24|7 on Google News.