Kubica's F1 career at risk after crash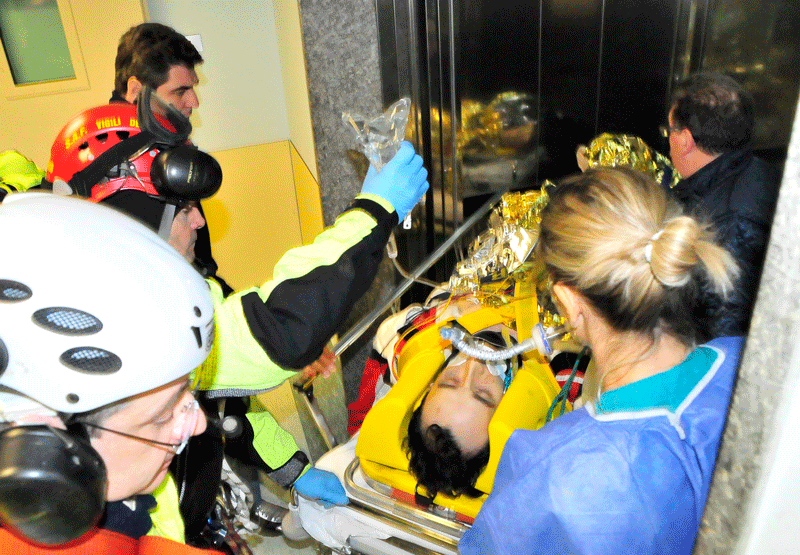 Robert Kubica's Formula One career hung in the balance on Sunday after a high-speed crash in a minor rally in Italy left the Renault driver fighting to save the use of his right hand.
His team said the Pole, who went through seven hours of surgery involving seven doctors split into two teams to attend to multiple fractures to his right leg and arm, had been put into an induced coma.
The season starts in Bahrain on March 13 but surgeon Mario Igor Rossello told reporters at the Santa Corona hospital in Pietra Ligure near Genoa that it could take a year for the 26-year-old to recover.
"We will see in the next days what will happen," he said.
"The danger is that in five or seven days we have vascular problems. He could have surgery again to resolve the problems," added Rossello, while also offering a glimmer of hope.
"Drivers are always very special patients. I have a lot of motorbike patients and they heal in the fastest way possible, much faster than normal people."
Rossello said in a later Renault statement that Kubica's right forearm was cut in two places with significant lesions to the bones and tendons.
"At the end of the operation, Robert's hand was well vascularised and warm, which is encouraging," he added.
With testing under way in Spain already and the first race of the season in Bahrain on March 13, his Lotus-backed team will surely have to find a replacement for one of the most popular and competitive drivers on the grid.
Kubica, a race winner in Canada in 2008 with BMW-Sauber, was Renault's big hope of starting the season with a splash.
The team's official third drivers are Brazilian Bruno Senna and France's Romain Grosjean. Senna competed last season for the HRT team while Grosjean started seven races for Renault in 2009.
Neither has scored a point in Formula One and media reports quickly focused on Germans Nick Heidfeld and Nico Hulkenberg as possible alternatives, although the latter is contracted to Force India as a reserve.
Renault's other race driver is Russian Vitaly Petrov, who made his debut last season.
The Formula One paddock and world of motorsport at large was quick to send messages of support to Kubica, with other drivers using social network Twitter to express their shock and support for a fierce competitor who has already overcome considerable obstacles to reach the top on talent alone.
Ferrari's Spanish driver Fernando Alonso, Kubica's closest friend in the paddock as well as a regular poker partner, visited the hospital.
Kubica, Poland's first Formula One driver and national sporting hero, was driving to the start of the Ronde di Andora event near Genoa in a Skoda Fabia when the car went off the road and hit a church wall.
Italy's ANSA news agency said the car had been taken in by police for checks, while a wet asphalt road that had tree roots sticking out was the most likely cause of the crash.
The co-driver, Jacub Gerber, got out unhurt. Kubica had to be extracted by firemen.
Kubica, a keen rally fan who has entered several events previously, tested the new Renault in Valencia last week and ended the three days as the fastest overall.
The Pole walked away virtually unscathed from a huge crash in Canada in 2007 but still bears the scars of a serious road accident as a passenger in 2003, which left him with titanium bolts in his arm.
The accident was sure also to raise a further debate about the wisdom of teams allowing their highly paid and prized drivers to risk everything in their recreational life.
"We let him do it because rallying is in his heart," team principal Eric Boullier, who was due to visit Kubica on Monday with Petrov, told ANSA however.
"Rally driving is vital for Robert and his state of mind...we know the risks and so does he. We don't want a robot or corporate driver."
Red Bull driver Mark Webber was the last to suffer such an injury, breaking his leg and shoulder in November 2008 after being involved in a collision with a car while cycling in Tasmania.
Last year, while leading the championship into the final races, the Australian fell off his mountain bike again and fractured his shoulder.
In 1990 Italian grand prix driver and race winner Alessandro Nannini, whose Benetton team went on to become Renault, had his right forearm severed in a helicopter accident. Although he had successful surgery, he did not race again in Formula One.
Follow Emirates 24|7 on Google News.