Kubica vows to bounce back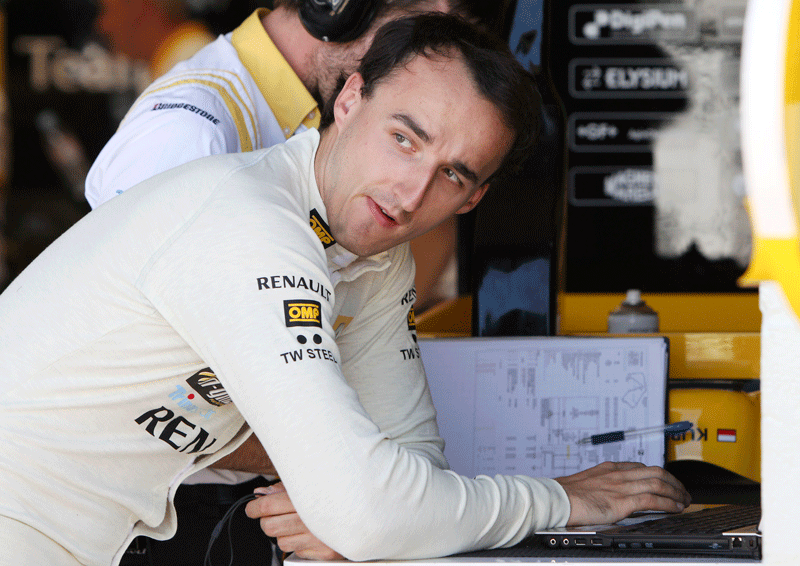 Formula One star Robert Kubica has vowed to bounce back better than ever despite suffering a horror crash in a rally in Liguria on Sunday that has put his racing career at risk.
Surgeons battled for seven hours to save the functionality of his right hand and he is due to go under the knife again before also facing surgery on his arm and foot.
Although he admitted he does not yet know if he will regain full use of his hand, Kubica believes he will get back behind the wheel of racing cars.
"The fingers work, I can feel them. My arm too. But they still need to operate on me and only after that will we know," Kubica told La Gazzetta dello Sport on Friday.
"I'm sorry about what happened, I shouldn't but I don't remember anything. My manager Daniele Morelli explained everything to me.
"My family arrived from Poland and they've already gone. I'm really sorry for my mother, she suffered so much.
"I don't have much pain but I'm sedated, after the last operation the count-down to my return to the track will begin."
Lotus Renault GP driver Kubica was racing a Skoda Fabia in the Ronde di Andora rally in Italy when he lost control at high speed on a bend, crashing into a guard rail and ending up in a church wall.
His co-driver, Jacub Gerber, emerged from the wreck unhurt but Kubica remained inside until emergency services removed him from the wreckage.
He was airlifted to Santa Corona hospital in Pietra Ligure by helicopter.
It wasn't the first time that Kubica has been involved in a bad crash.
"I'll get better after these accidents, that's what happened to me in 2007 after the crash in Canada," he said.
"In these situations your abilities and motivation shine through, I'll come back a better driver and a stronger person.
"I should be back this year and my right arm feels better now than it did when I was run over by a drunk seven years ago."
Kubica crashed into a wall at 300kph during the Canadian Grand Prix in 2007 while driving for Sauber, before rebounding across the track in a barrel roll and hitting another barrier.
However, he was not seriously injured, sustaining nothing more than a sprained ankle and slight concussion.
He missed only one Grand Prix after the incident.
As for whether he will continue to use rallies as preparation for the Formula One season, Kubica was noncommittal.
"I also asked myself why race in a rally. It's tough training, it's severe, for F1 it helps the concentration but would I race another one? We'll see," he said.
And Kubica thanked all those close to him in F1 who have shown their support.
"It was great to see (former Renault boss Flavio) Briatore, he's a great person," he added.
"Then (Fernando) Alonso, (Gerard) Lopez, (Vitaly) Petrov, (Jean) Alesi, (Vitantonio) Liuzzi have all visited.
"That was lovely, you never get to see the true face of people on the track."
Lotus Renault GP said on Tuesday Kubica would need to stay at the Santa Corona hospital for another two to three weeks before a decision could be made on where to transfer him next to continue his recovery.
With Kubica expected to be sidelined for between six months and a year the team is taking steps to find a temporary replacement with Bruno Senna, nephew of the late world champion Ayrton Senna, and Nick Heidfeld, set to be put through their paces at Jerez in Spain this weekend.
Ferrari driver Felipe Massa, who was the fastest man in testing in Spain on Thursday, said he hoped Kubica makes a quick recovery.
All the cars taking part in testing carried messages of support for the stricken Polish driver.
"I am glad Robert is getting better. It was nice that we all had a note for him on our cars and again I wish all the very best," said Massa.
Follow Emirates 24|7 on Google News.