Kurt Busch wins Daytona 500 demolition derby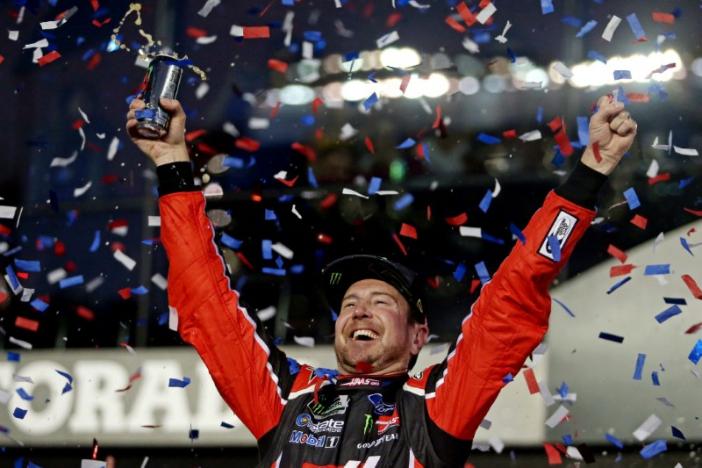 Kurt Busch steered clear of the chaos to win a crash-filled Daytona 500 on Sunday as the Great American Race was transformed into the Great American Demolition Derby.
Busch led for one lap but it was the most important one as he powered his Stewart-Haas Racing Ford to the front with less than one to go after polesitter Chase Elliott ran out of gas.
The 38-year-old American then held off Ryan Blaney by .228 of a second to claim his first Daytona 500 in 17 tries, after previously finishing runner-up three times.
"There is nothing predictable about this race anymore and the more years that have gone by that I didn't win I kept trying to go back to patterns that I had seen in the past," an emotional Busch told reporters.
"My mirror fell off with 30 laps to go and I couldn't even see out the back. And I thought that was an omen. Throw caution to the wind."
There were also tears in pit lane as co-owner Tony Stewart, who tried for almost two decades as a driver to find a way to Victory Lane at Daytona, finally celebrated.
"I ran this damn race 18 times and couldn't win it so finally won it as an owner," said Stewart. "To watch Kurt was an awesome job those last couple of laps you really didn't know what was going to happen because guys were trying different things.
"It is probably the most patient race I have ever seen Kurt Busch run."
Patience was indeed a virtue on a wild afternoon at Daytona International Speedway that saw just 25 cars still running at the end and only five reaching the finish line without some damage.
Even Busch, the 2004 NASCAR Series champion, did not escape unscathed.
"Our car was damaged on all sides," said Busch after collecting his 29th career win. "We went through everything today."
After an orderly start to the Monster NASCAR Cup season, the second half of the 200-lap race turned it into a wreckfest with multi-car pile up after pile up knocking out many of the favorites and former champions, including twice winners Dale Earnhardt Jr., Jimmie Johnson and Matt Kenseth.
A new NASCAR season began with a new format, the race divided into three stages and points awarded to the top 10 drivers at the end of each segment.
The format produced some wild pit stop strategies as Kurt's younger brother Kyle Busch and Kevin Harvick picked up stage wins but not the big prize.
Kyle Busch's race came to an abrupt end just halfway when he spun and collected several cars, including Earnhardt and Kenseth, bringing out a red flag and halting the race.
"To get back to the race track meant a lot to me and just sorry we weren't able to deliver a better result today for all our fans," said Earnhardt, who missed the second half of last season after suffering a concussion.
I don't really know what happened ... luckily the hit wasn't that hard."
After just one incident brought out a caution in the first 100 laps, the back half of the race produced a series of wrecks.
Only 23 laps after Kyle Busch's crash the yellow flag was out again when seven-times series champion Johnson was at the center of a massive 16-car pileup that knocked out Danica Patrick, the only woman in the race, among others.
The yellow was out again a few laps later, ending the hopes of another former winner Trevor Bayne.
Just as action resumed the yellow flag was waved again when a multi-car crash sent 2012 Series champion Brad Keselowski to the garage.
Follow Emirates 24|7 on Google News.