Lamborghini stun Porsche to take pole position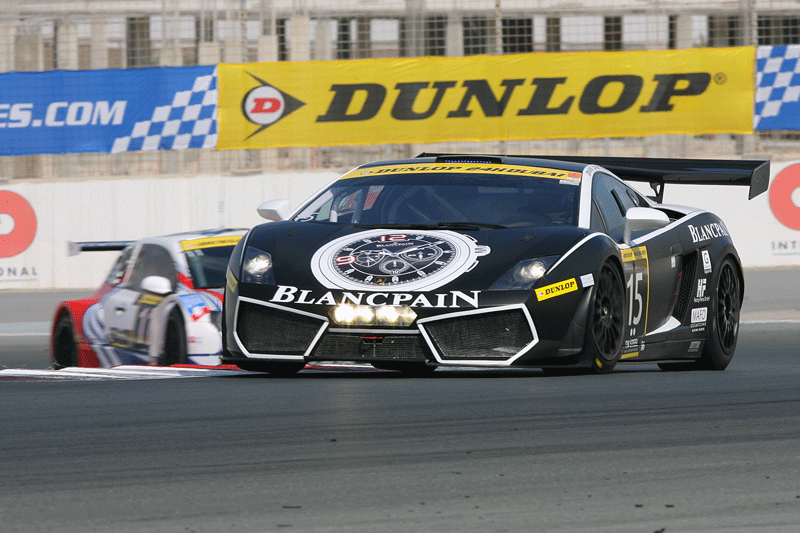 Although Porsche have dominated previous editions of the Dunlop 24 Hours of Dubai, this year Lamborghini caused a major upset in qualifying to take pole position, and second place on the grid, for the race which gets underway at 2pm on Friday.
Peter Kox, Marc Hayek, Nico Pronk and Bernhard Muller in the Blancpain Reiter Lamborghini Gallardo LP560 GT3 set the Dubai Autodrome alight on their way to claiming pole position for Friday's Dunlop 24 Hours of Dubai.
They will start at the front of an 87-car grid after they overcame a strong Porsche and Mercedes challenge for the front row on the grid.
"It is great to be the first Lamborghini team to take pole for this race and we are optimistic that we can deliver in the race," said Dutch driver Kox.
The best UAE-based team was the Fabien Giroix led Gulf Team First Lamborghini LP560 who he will share with Frederic Fatien, Roald Goethe and Mike Wainwright.
Giroix said: "We are proud to be the best placed team from this region. We worked hard to get to this point and to start the race from second on the grid is a great feeling."
Starting behind the two Lamborghini's and third fastest in qualifying, was the Tomas Enge-led Mosler MT900 GT3.
Fastest of the Porsche Brigade was MRS Team PZ Aschaffenburg who will start their Porsche GTR 997R from fourth on the grid.
Heading up the third row, fifth fastest in qualifying, will be the Tolimit Arabia Porsche 911 GT3R driven by Team Abu Dhabi ace Khaled Al Qubaisi and his highly rated team mates Sascha Maasen, Jeroen Bleekemolen and Sean Edwards.
Al Qubaisi will start the race as the highest placed Emirati driver on the grid.
"I am part of a very strong line-up of drivers, together with our technical crew, I am pretty confident we can achieve a good result. We are heading for the podium," he said.
Sixth fastest was the Need for Speed BMW spearheaded by touring car ace August Farfus, ahead of the Heico Motorsport Mercedes with former F1 driver and multiple German champion Bernd Schneider heading the line-up of drivers.
The race will start at 2pm on Friday with free entry to spectators during the course of the 24 hours and offers unprecedented access to the action for spectators.
Dubai Autodrome Chairman Saeed Khalfan said: "We are looking forward to an epic battle for top honours in this sixth edition of the Dunlop 24 Hours of Dubai. We are expecting a big crowd to witness the start at 2pm which is always a sporting spectacle as 87 cars dash down into Turn 1 as they embark on what is always an adventure for the teams and drivers."
Follow Emirates 24|7 on Google News.