Lamborghini takes lead in 24 Hours of Dubai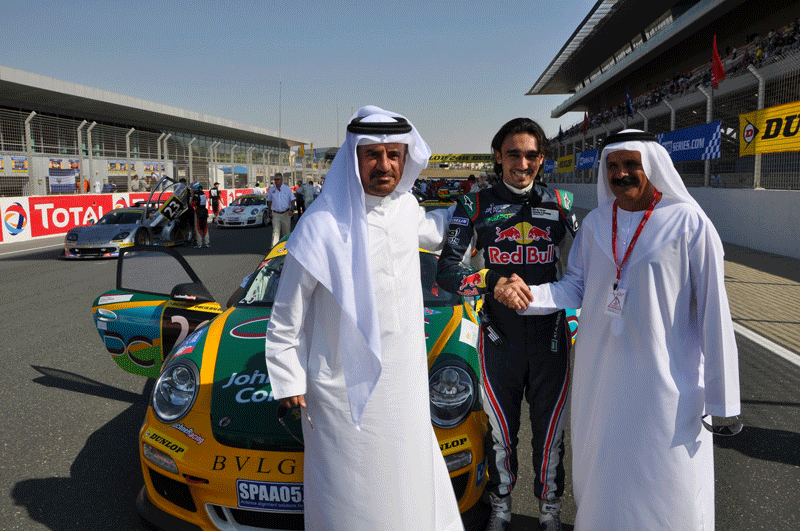 Gulf Team First Lamborghini, with Fabien Giroix at the wheel, took the early lead as 85 cars with over 25,000 horsepower roared into Turn 1 of the Dubai Autodrome at the start of the Dunlop 24 Hours of Dubai on Friday afternoon.
Dubai-based Frenchman, Giroix started from second place on the grid and by the end of the first lap was in command, having overtaken the Blancpain Reiter Lamborghini with Peter Kox on the opening lap.
Shortly after the start an incident involving the Jetalliance Porsche and NFS Lotus brought out a Code 60, the endurance racing version of a pace car, for several laps.
When the field returned to racing Giroix came under pressure from Kox who in turn was pursued by former Formula 1 driver Bernd Schneider in the Heico Motorsport Mercedes SLS AMG.
Close to the hour mark Kox made his move to take the lead with Schneider slotting into second a Giroix dropping to third ahead of the best placed De Lorenzi Racing Porsche with Gianluca de Lorenzi at the wheel. At this stage there was very little to separate the quartet.
Best of the Emirati drivers in the field, during the first hour, was Khaled Al Qubaisi driving the Tolimit Arabia Porsche running in sixth place.
The scene is set for a titanic battle between, the world's top marques, Porsche, Mercedes, Lamborghini and BMW as the dark horse.
The battle for overall victory is just one of over a dozen contests taking place as top honours are awarded in 14 different classes.
Earlier the start was signalled by Dubai Autodrome Chairman Saeed Khalfan and watched by a crowd of an estimated 5,000 fans including FIA vice-president and ATCUAE president Mohammed bin Sulayem.
Over 400 drivers from 120 countries will competing during the course of the 24 hours where speed, consistency, teamwork, endurance and strategy will come in to play. The prospect of the elements playing a role are high as in Dubai rain is not uncommon this time of the year while fog is almost a constant in the early morning in the city and surrounding areas.
Porsche, who have dominated this event in recent years, are facing the sternest challenge in years with Lamborghini, BMW and Mercedes making concerted efforts to claim top honours in the first major international road race of the year.
The chequered flag, to end the race, will be waved on Saturday at 2pm after which the top teams will have notched up anything between 750 and 800 laps.
Follow Emirates 24|7 on Google News.