Manny Pacquiao vs Amir Khan fight in Wembley or Abu Dhabi?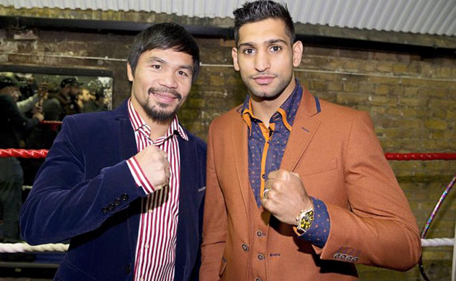 Wembley in England or the UAE's capital Abu Dhabi is being talked about as the venue for a potential world title fight between Filipino boxing legend Manny Pacquiao and British welterweight Amir Khan.

If the awaited May 2 mega bout between Pacquiao and Floyd Mayweather does not happen, a contest between the two former sparring partners is on the cards, it has been reported in the British press.

Khan is considered a Plan B option by Pacquiao's adviser Michael Konz.

"Just in case Floyd doesn't come through we regard Amir as the best possible alternative," said Koncz.

"He and Manny would make for a very exciting fight and Manny would be more than happy to do it at Wembley stadium.

"We are looking at Abu Dhabi as another potential venue."

Khan trained alongside Pacquiao for several years under his old mentor Freddie Roach and had previously maintained they would never fight.

But, despite their warm relationship, both men are now open to a bout following their get-together at the Fitzroy Lodge boxing club in London.

"It was great seeing Manny again as it's been a while since we last met up," Khan said on Friday.

"He's a good friend and we chatted about the past when we were training together, his visit to London and also a bit about the future.

"Even though we have that friendship, if it makes sense then it's a fight that can certainly happen between us. I want to fight the biggest and best names out there and Manny is definitely among them.

"Within the next few weeks, who I'm fighting should be a lot clearer. I want to give the fans the most exciting and entertaining fights in 2015 - so watch this space."

Khan and Pacquiao have both spoken recently of their wish to fight the world's top fighter, Floyd Mayweather, without actually securing a shot with the American.

But in the meantime they could meet each other in the ring after Khan, 28, delivered arguably a career-best performance when he won a landslide decision victory over American Devon Alexander in December.

Pacquiao, 36, seems to be past his peak but remains a massive draw in the sport and he too would be happy to fight Khan.

"Yes, there's a big possibility, nothing personal, we're just doing our job in the ring," he said on Sky Sports News.

"It's not difficult for us because we respect each other."
Follow Emirates 24|7 on Google News.