Meet the next Ayrton Senna: Dutch rookie Verstappen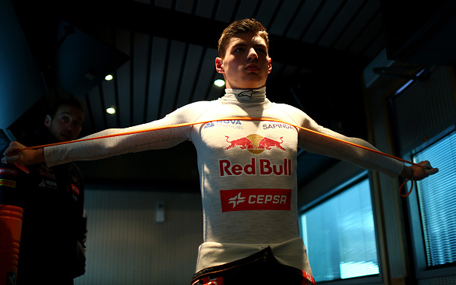 Max Verstappen is a boy racer with a difference.

Formula One's hottest new sensation does not own a car, appears to be in no hurry to get one and would not be allowed to drive it unsupervised anyway.

Billed by one magazine as the most controversial driver ever to enter the sport's elite, the 17-year-old Dutchman makes his debut in Australia next week as Formula One's youngest participant.

When he was handed the Toro Rosso drive, Verstappen was still only 16 - and had to be driven by former F1 racer father Jos to Belgium's Spa-Francorchamps circuit to meet the media.

He still is driven around, or uses other means of transport, but none of that fazes him one bit.

"I have a kind of driving licence. It's just that I can't drive alone," Verstappen told Reuters during a break from pre-season testing at the Barcelona circuit.

"I don't like to drive on the roads, so I don't do it. I am driving anyway a lot now (on track)."

Double world champion Lewis Hamilton and other leading drivers may have mouth-watering collections of exotic cars in their Monte Carlo garages but Verstappen has yet to acquire even a modest runabout.

Asked whether he had anything in mind, he shook his head.

"I keep changing my mind every week," he confessed. "For the moment I don't know."

Whatever the youngster eventually opts for, it is unlikely to be a fire-breathing monster.

"You don't need it to be fast on the roads. This (Formula One) is already fast enough. But anyway I'm not at home that much so I don't really need a car at the moment," he shrugged.

On the track, it is a different story.

If ever a driver was born to race, it was Verstappen - the son of a man who was once Michael Schumacher's team mate and whose mother Sophie was also a very quick karter.

Motorsport runs in the blood.

Red Bull consultant Helmut Marko has stated that Verstappen could be the next Ayrton Senna, a rare and natural talent, while others whose paths have crossed with the Dutchman speak in equally glowing terms.

Yet his signing by Toro Rosso was so controversial the governing FIA rewrote the rules before he had made his debut, so keen were they to ensure nobody so young can repeat the feat.

From 2016, drivers will have to be over 18 to get a super-licence with sufficient qualifying points accumulated from other series over a three-year period.

It is a change that would have barred Verstappen and top talents like Fernando Alonso, Kimi Raikkonen and even seven times champion Michael Schumacher in previous years.

Verstappen felt it was a false controversy, an argument about age rather than talent.

"If I just do a good job in my first few races, without making mistakes and all these things, they will stop talking about my age quite quickly," he said.

"I can understand the reaction. But I just have to prove them wrong. Try to be mature for my age, that's the most important."

Verstappen has done little wrong in testing, doing steady laps and impressing with his composure and obvious talent.

His immediate aim for Australia, he said, was "be consistent, build up slowly, practice, hopefully be there in qualifying and then in the race it's to try and finish and hopefully we can score some points.

"I think we have a good chance, especially in the first few races in the season."

Marko's praise, added the teenager, changed nothing.

"It's very nice. But it doesn't put any more pressure on me. It's very nice to hear but...I'm just working on myself and trying to prove myself and the car and that's the most important for me at the moment.

It will be an historic moment when he lines up on the Melbourne grid, but Verstappen says he is ready for it. Self-doubt is not a family trait.

"I may be a bit excited but once the lights turn off, you're going to race and you don't think about it," said the driver. Really? "Yes. 100 per cent sure."

Follow Emirates 24|7 on Google News.