NBA: Kobe Bryant's Lakers shock mighty Warriors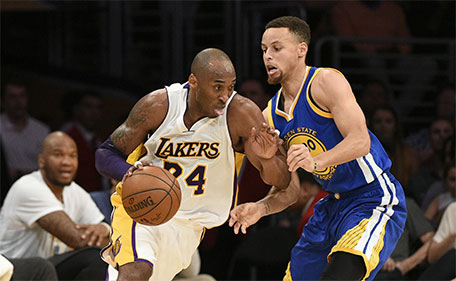 The Los Angeles Lakers posted one of the biggest upsets of the NBA season Sunday with an unlikely 112-95 victory over the reigning league champion Golden State Warriors.
Pre-game hype Sunday was all about Kobe Bryant's final contest against the Warriors, but the crowd of 19,000 at Staples Center arena got more than they wished for with a rare win by the cellar-dwelling Lakers.
"This helps out our team's growth," Bryant said. "The learning curve comes from trusting our defence."
Jordan Clarkson scored 25 points and D'Angelo Russell tallied 21 as the Lakers handed the Warriors only their sixth loss of the season against 55 triumphs.
The Warriors are chasing the all-time best season in NBA history, the 72-10 campaign of the Chicago Bulls in 1995-96. To match the mark, Golden State must now win 17 of the final 21 games this season.
Based on the winning percentage difference of .727 between the teams before Sunday's game, the result is the largest upset in NBA history.
Bryant, who has been hampered by injuries of late, had 12 points on four-of-14 shooting in 24 minutes of court time.
It marked the 37-year-old Bryant's first game back at Staples Center arena since February 2. He missed three of the last four regular season games with a sore shoulder.
"I feel terrible not being able to be out here for every single game," said Bryant, who is retiring after the regular season. "If I can give it a go I will go out there and try."
Asked how many of the Lakers' final 18 games that he would be able to play Bryant said, "hopefully all of them. I know it is wishful thinking."
Stephen Curry finished with 18 points, six rebounds and four assists, but shot just one-of-10 from beyond the arc for the Warriors, who saw their seven-game win streak snapped.
"We didn't have much energy," Curry said. "Just one of those nights you want to avoid at all cost."
Curry's backcourt partner Klay Thompson scored 15 points, but missed all eight of his three-point attempts and shot seven-for-20 overall.
Rockets jettison host Raptors
James Harden tallied a game-high 40 points as the Houston Rockets ended a couple of significant streaks with a 113-107 victory over the host Toronto Raptors.
The Rockets not only snapped the Raptors' 12-game home winning streak but they won in Toronto for the first time in nine games.
Harden had 20 of his 40 points in the fourth quarter as the Rockets erased an 85-77, third-quarter deficit to avoid a second consecutive loss overall.
Corey Brewer came off the bench to score 23 points and Dwight Howard added 21 points and 11 rebounds.
Toronto was led by 21 points from Luis Scola. DeMar DeRozan added 19 points and seven assists while Kyle Lowry had 17 points and nine assists
Augustin lifts Nuggets
D.J. Augustin hit two free throws with nine-tenths of a second left in overtime to lift the Denver Nuggets to a 116-114 victory over the Dallas Mavericks.
Augustin scored eight of his 12 points in the extra period. Kenneth Faried had 25 points and a season-high 20 rebounds, and Will Barton scored 20 for the Nuggets, who rallied from four down in the last 10 seconds of regulation to force overtime.
Germany's Dirk Nowitzki scored 30 points and Deron Williams had 17 for the Mavericks, who lost their second straight game.
Follow Emirates 24|7 on Google News.