NFL: Brees lifts Saints to OT win over Cowboys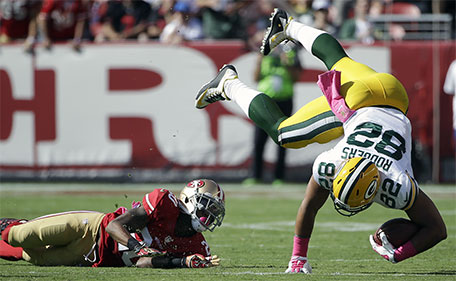 Aaron Rodgers threw for 224 yards and one touchdown as the Green Bay Packers got off to their first 4-0 start in four years with a 17-3 win over San Francisco.

After a modest first half, the Packers picked up steam in the second half of Sunday's contest by dominating 49ers quarterback Colin Kaepernick and snapping a four-game losing streak to San Francisco.

"It was a grind out there," said Rodgers. "We had a good first drive and we kind of stalled for a little while. Defence played incredible. I thought we ran the ball pretty well."

The Packers are now one of five teams who have opened the season with 4-0 records, joining Atlanta, Carolina, Cincinatti and Denver.

In the late game Sunday, running back C.J. Spiller caught an 80-yard touchdown pass from quarterback Drew Brees to lift the New Orleans Saints to a 26-20 overtime win over the Dallas Cowboys.

Kaepernick was sacked six times at Levi's Stadium. Linebacker Nick Perry had two sacks, while linebackers Clay Matthews, Jayrone Elliott, Julius Peppers and Mike Neal each had one.

"They always say defences win championships," Perry said. "As long as we're all playing on all cylinders, we can't be beat. We're going to take it one game at a time and focus on our next opponent and we'll get there."

The Packers' recent losses to the 49ers included defeats in the 2012 and 2013 NFL postseasons.

Rodgers completed 22 of 32 passes with no interceptions. Wide receiver James Jones caught five passes for 98 yards, and running back Eddie Lacy rushed 18 times for 90 yards.

Kaepernick completed 13 of 25 passes for 160 yards and one interception. Running back Carlos Hyde gained just 20 yards on eight carries. Wide receiver Torrey Smith caught two passes for 54 yards.

The Packers led 7-3 at halftime and made it 14-3 with just over seven minutes left in the third quarter on fullback John Kuhn's one-yard touchdown plunge. The drive took nine plays and covered 61 yards.

Elsewhere, it was as if a giant hand reached up and turned back the clock for Indianapolis Colts kicker Adam Vinatieri and quarterback Matt Hasselbeck at Lucas Oil Stadium.

The Colts were without franchise quarterback Andrew Luck, who suffered a shoulder injury in a September 27 game.

So it was up to the Colts' two oldest players to salvage a 16-13 overtime victory against Jacksonville.

Vinatieri's 27-yard field goal with 4:36 remaining in overtime gave the Colts (2-2) a much-needed victory. The 42-year-old is the Colts' oldest player.

Backup quarterback Hasselbeck, 40, started in place of Luck and completed 30 of 47 passes for 282 yards and a touchdown.

In Denver, Brandon McManus kicked three field goals, including a 39-yarder with 1:51 remaining, as the Broncos defeated the Minnesota Vikings 23-20 to remain undefeated.

Peyton Manning led the Broncos into position for the tie-breaking score with C.J. Anderson and Ronnie Hillman also making clutch runs. Hillman had 103 yards rushing Sunday, including a 72-yard touchdown run.

Denver is off to a 4-0 start for the seventh time in franchise history and the second time in the last three years.

The Broncos sealed the win when safety T.J. Ward sacked quarterback Teddy Bridgewater at midfield, forcing a fumble late in the contest. Linebacker Von Miller recovered the loose ball for the victory.

Follow Emirates 24|7 on Google News.