NFL: Flacco powers Ravens to half-time lead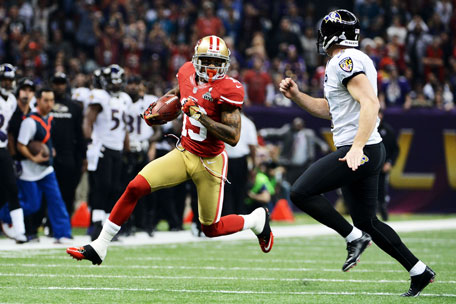 Joe Flacco threw three touchdown passes as the Baltimore Ravens jumped to a 21-6 half-time lead over the San Francisco 49ers on Sunday in Super Bowl 47.

Flacco hit Jacoby Jones, Dennis Pitta and Anquan Boldin for touchdowns in a first half that was dominated by the Ravens, who have risen to every playoff challenge ahead of the National Football League's championship game.

Flacco, who is in the final year of his contract, completed 13-of-20 passes for 192 yards in the first half.

Jones took a pass from Flacco on a brilliant 56-yard pass and run play with just under two minutes remaining in the second quarter for the Ravens, who are seeking their second Super Bowl title after winning the 2001 Super Bowl.

Jones fell backwards while making his catch, then rose and scrambled past two San Francisco defenders before diving into the end zone to give the Ravens a 21-3 lead.

Flacco also completed a one-yard pass to Pitta for a touchdown in the second quarter and a 13-yard toss to Boldin to open the scoring on the Ravens' first possession of the game.

Boldin outraced 49ers defender Donte Whitner before leaping to snag the Flacco pass for his fourth reception of the playoffs.

David Akers kicked a 36-yard field goal to put the 49ers within 7-3 with just over four minutes remaining in the first quarter.

San Francisco decided to kick the field goal after Baltimore's Paul Kruger sacked quarterback Colin Kaepernick, who struggled in the first half, completing only 8-of-13 passes for 139 yards.

Akers, who kicked a second field goal as the first half ended, has taken plenty of heat this season for his inconsistent play.

The Ravens tried to add to their lead with some trickery but kicker Justin Tucker failed to get into the end zone on a fake field goal attempt on fourth down late in the second quarter.




Follow Emirates 24|7 on Google News.