NFL: Manning, Newton to duel as America stops for Super Bowl 50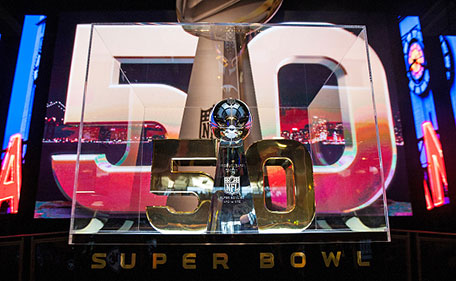 A perfectly scripted quarterback duel between Peyton Manning and Cam Newton will take center stage on Sunday as America comes to a standstill for the 50th edition of the Super Bowl.
More than 100 million households across the United States and millions more worldwide will tune in to see if Manning can inspire the Denver Broncos to an upset victory over Newton and the Carolina Panthers.
The climax of the National Football League season is the biggest event on America's sporting calendar, a money-spinning commercial juggernaut which sees millions gather for day-long viewing parties in bars and homes.
The 39-year-old Manning - poised to become the oldest starting quarterback in Super Bowl history when the teams run out at Levi's Stadium in Santa Clara - will be a sentimental favourite for many.

The five-time NFL Most Valuable Player has battled through to Sunday's showpiece after arguably the most challenging season of his 18-year career which included a mid-term slump that saw him benched as Broncos starter.
Manning's fourth Super Bowl appearance is also shrouded by the poignant knowledge that it may well his final game.
Manning has consistently stated that he has not yet decided on his future in the build-up to the game, which kicks off at 3:30pm local time (2330 GMT).
"I haven't made my mind up and I don't see myself making a decision until after the season," said Manning, who passed Brett Favre this season to become the all-time leader in passing yards at 71,940.
The key to Manning's hopes of adding a second Super Bowl ring to the one he earned with the Indianapolis Colts in 2007 may well rest with Denver's formidable defence.
But whether Denver's defence can put the brakes on Newton and the free-scoring Panthers remains to be seen.
The Panthers demolished the Arizona Cardinals in the NFC title game, winning 49-15 against a side who had been expected to threaten them.
At the heart of the Panthers dominance this season - they carry a 17-1 record into the Super Bowl - has been Newton, whose scoring statistics have almost seen him redefine the role of quarterback.
The 26-year-old's twin threat of passing and running ability - which includes a staggering 10 rushing touchdowns in the regular season - has asked questions that few opposition defenses have been able to answer.
A star-studded capacity crowd of 73,000 will cram into the $1.2 billion (1.1 billion euro) home of the San Francisco 49ers to watch the Manning-Newton duel.
Pop diva Lady Gaga will sing the national anthem while British rockers Coldplay will headline the halftime entertainment show which will also feature performances from Beyonce and Bruno Mars.
Only a limited number of tickets with a face value of between $500 and $1,800 went on general sale, with most ending up on the resale market.
The Stubhub website said the average price of a ticket on the secondary market was $4,900.
A vast security blanket will be draped over the event, which has seen an estimated one million visitors descend on San Francisco for the game and festivities linked to the extravaganza.
Federal officials revealed this week they had consulted officials in France "constantly" to help plan against a Paris-style terror attack, while emphasizing there was no evidence of a credible threat.
"Our intelligence and analysis directorate, me, the deputy secretary and numerous others have consulted the French, and we continue to do so," Homeland Security Secretary Jeh Johnson said Wednesday.
"We try to anticipate things that could happen from multiple different directions. We're always informed by recent events and what we see and the world situation," Johnson added.
Follow Emirates 24|7 on Google News.