'No Nostradamus' Klitschko foresees win over Joshua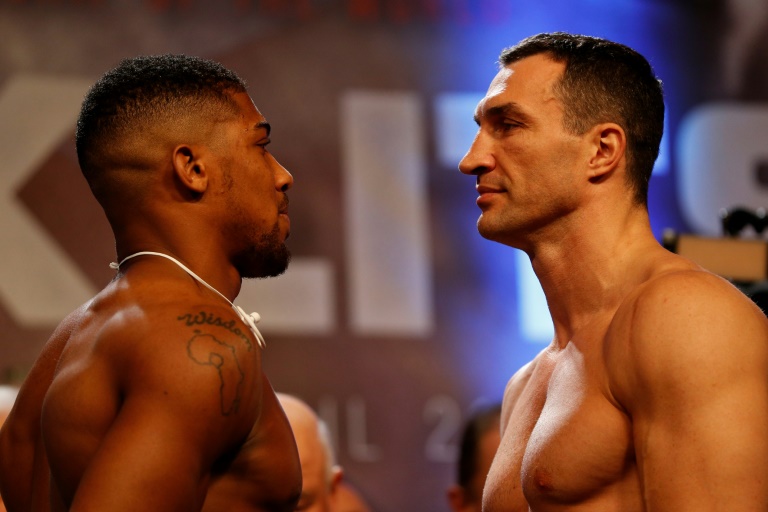 Anthony Joshua said it took "two to tango" after Wladimir Klitschko turned fortune-teller ahead of their hugely anticipated world heavyweight title bout at London's Wembley Stadium on Saturday.
The Briton faces the former world heavyweight No. 1 in front of 90,000 fans in the biggest fight the division has seen in years.
Klitschko, however, has recorded a video of himself predicting the outcome of the fight and put it on a memory stick which will be sealed into the robe he wears to the ring to face Joshua.
After the fight, Klitschko will auction off the robe -- along with his pre-fight prediction on the memory stick -- for his charity, the Klitschko Foundation.
"I see myself in AJ (Joshua), I know how he thinks, what he's going to do and how the fight is going to be. I'm not Nostradamus, but I feel so strong in my obsession," the 41-year-old Klitschko said.
"Obsession is love in extreme shape so I'm in love with my goal. My goal, my obsession and love, is that those belts will come back to my corner," the Ukrainian added.
But Joshua, 27, insisted he had not been swayed by his older opponent's assertions, simply replying "lie, lie" when they were put to him.
"He thinks it's about him? It takes two to tango, man. You know what I mean? It definitely takes two to tango."
Joshua's International Boxing Federation title and the vacant World Boxing Association belt will be disputed in the most significant heavyweight fight ever to be held in Britain, which will reportedly earn the pair upwards of £10 million ($13 million, 12 million euros) each.
Britain's largest attendance for a boxing event since 1939 is expected with millions more watching on television in over 140 countries
Yet Joshua, the London 2012 Olympic gold medallist, does not even see this as being the most important fight he will ever have.
"I don't think so, because it won't be the end of my career," he explained.
"When he (Klitschko) gets beat that could be the end of him, that's why it could be defining for him."
- 'No denying Father Time' -
Joshua believes he will be too young and sharp for Klitschko, who has not boxed for 17 months.
"He will probably start fast because he won't be able to keep the pace," Joshua, the England-born son of Nigerian parents, said.
"Father Time is something no one can deny. Father Time is genetic," added Joshua, who has knocked out all 18 of his professional opponents.
Klitschko (64-4, 53 KOs) is fighting to show he is not finished after turning professional in 1996 following his Olympic gold medal success earlier that year when Joshua was aged seven.
The Ukrainian was last seen in a ring when outboxed in a defeat by Joshua's compatriot Tyson Fury, which ended his reign as champion of nine-and-a-half years, in November 2015.
Klitschko, who saw Fury twice pull out of a re-match, is banking on his greater experience being a decisive factor. While Joshua has never been beyond seven rounds, Klitschko has been 12 rounds nine times.
"Experience is something that you cannot buy in a shop, you gain it over the years," Klitschko said.
"People could be in great preparation and great spirit and I've seen that they crumble like a cookie right before the first bell," added Klitschko, bidding to become a three-time world heavyweight champion like his older brother Vitali, Evander Holyfield, Lennox Lewis and Muhammad Ali.
Joshua tipped the scales at 17 stones 12lbs 2oz (113.4 kg), 10 pounds more than Klitschko, at Friday's weigh-in.
But Klitschko had already come up with an answer to that by comparing Joshua to an over-muscled body-builder.
"I've never seen AJ as big as he is right now. He is as big as Arnold Schwarzenegger at his best."
Follow Emirates 24|7 on Google News.