Orlando Sports Group launches Diadora back in the Gulf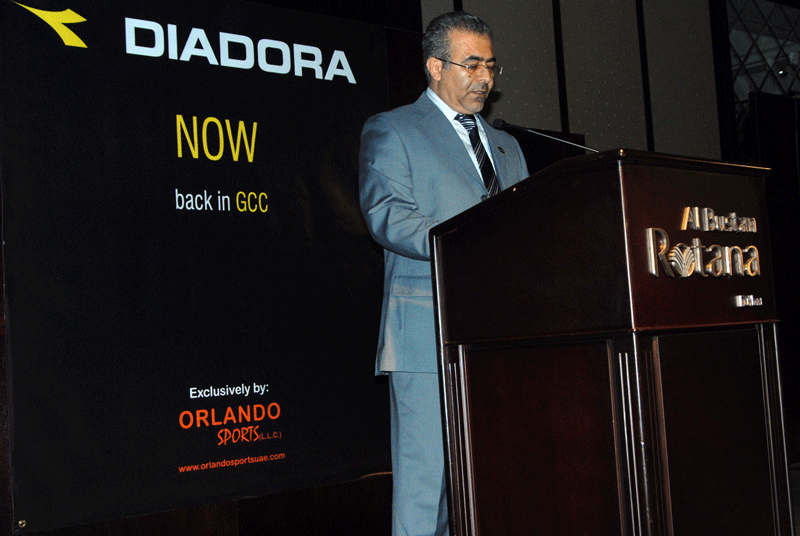 Orlando Sports Group, a leading retail sports shop in the UAE, announced the return of Diadora, the Italian manufacturer of athletic footwear and apparel, to the UAE.
"We are very pleased and honoured to bring Diadora back to the UAE and the Gulf," said Yousuf Khadmi, Chairman of Orlando Sports Group, during the launch in Dubai.
"Diadora is a leading Italian sports brand with a history of designing and manufacturing sports shoes and clothing in the sports of football, tennis, athletics, cycling and motor sports. It is a well-known brand and has a reputation for excellence and quality."
Area Manager, Paluello Nicola, Diadora, Italy, said: "Our partnership with Orlando Sports Group demonstrates our vision in this growing market. The UAE and the GCC markets are made up of young and adults who are both health conscious and athletic minded. We are bringing a trusted brand that offers great value sport clothing and sports shoes and footwear for the whole family. International sports legends have worn Diadora clothing and sports shoes in their competitive fields of play so our customers are guaranteed superb quality, attention to detail and innovative materials."
The Italian sports brand was founded in 1948. At that time, Diadora was a craft laboratory producing the best mountain and work boots available on the market. In the 60's, Diadora ventured into sport, gaining great success due to its high quality and advanced solutions.
In the 70's, as professional sport took off, Diadora became entrenched in the performance of elite athletes such as Dutch football legend Marco Van Basten, Swedish tennis great Bjorn Borg and African footballer George Weah.
The sports shoes and sports clothing are worn by all standards of athlete from recreational through to elite football players such as Heath and Rhyce Shaw, and Ryan Griffen.
Today, Diadora is endorsed by professionals such as Francesco Totti, Filippio Inzaghi and Damiano Cuneo.
The range of Diadora sports, clothing, sports shoes and footwear are now available at all Orlando Sports stores in Dubai, Abu Dhabi, Sharjah, Al Ain and Ras Al Khaimah.
Follow Emirates 24|7 on Google News.