Oxford cruise to Boat Race victory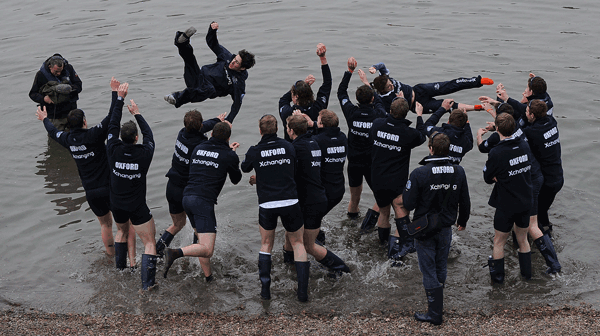 Oxford University gave coach Sean Bowden his 10th success in the 157th Boat Race over Cambridge University here on Saturday with a superb display of oarsmanship.
Oxford - who have 76 wins now to Cambridge's 80 with one dead heat - took an early advantage and never relaxed their grip and by the time they reached Barnes Bridge they held a three length lead and left Cambridge needing to become only the third eight to come from behind at that stage to win the race.
For Oxford stroke Simon Hislop it was an especially sweet moment as he has battled successfully against testicular cancer.
"It just all came together," said 27-year-old Hislop.
"It was great fun. Our whole mantra is the looser we are the better we are."
Cambridge President Derek Rasmussen was stunned by the defeat.
"This is a stinging loss," said the 25-year-old American, who was a member of the American eight crowned Under-23 world champions.
"That is a top Oxford crew and hats off to them.
"We lost a tough one here."
Follow Emirates 24|7 on Google News.