Pacquiao-Mayweather 'superfight' tickets to cost up to $7,500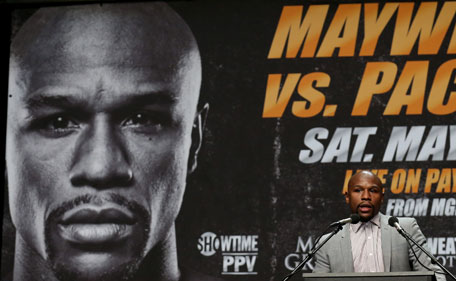 Tickets for Floyd Mayweather and Manny Pacquiao's long-awaited superfight will cost between $1,500 and $7,500, organisers said, but it is unclear how many will go on sale to the public.

Seats at the May 2 bout in Las Vegas promise to be one of the hottest tickets of the sporting decade, with the MGM Grand capacity limited to 16,800 people.

Many tickets are expected to be distributed to high-rollers and A-list celebrities desperate to be seen at a fight billed hyperbolically on Wednesday as the biggest bout in boxing history.

The clamour for tickets makes it likely that the number actually going on general sale is relatively small compared to other fights held at the venue.

Interest in May's bout was reflected in the 600 media who attended Wednesday's Los Angeles press conference between the two boxers, the only press event scheduled before the week of the fight.

The fight is also likely to smash pay-per-view records, with cable networks expected to charge around $100 per household for access to the bout.

"It transcends boxing for sure and will probably transcend sport," said television executive Ken Hershman of HBO Sports, describing it as the "single largest boxing event of all time."

Veteran fight promoter Bob Arum said the showdown would be a rare chance for boxing to shine on a global stage.

"Major events like the Super Bowl or even the Olympics get worldwide attention," Arum said.

"It's been rare that worldwide attention focuses on a boxing match. Believe me, the entire world will be watching this great event unfold."

Arum last month said he expected the fight to be the most lucrative in history.

"I would say that Joe Frazier is turning over in his grave," Arum said in an interview. "And Muhammad Ali is looking on in disbelief."
Follow Emirates 24|7 on Google News.