Pacquiao training for Mayweather 'like any other fight'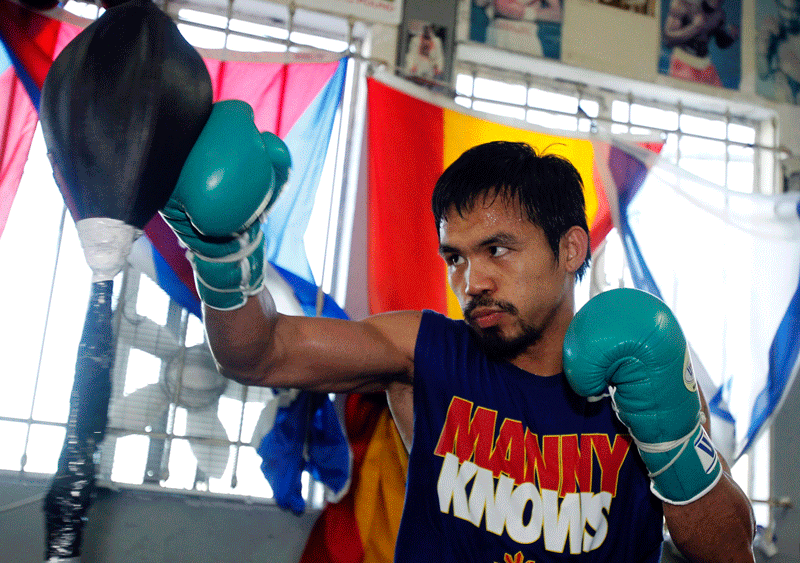 Philippine boxing hero Manny Pacquiao may be facing the biggest fight of his career in undefeated rival Floyd Mayweather but he said on Sunday he is taking it all in his stride.

"This is just like any other fight I had before," he told reporters as he went through his regular training regimen in his home town of General Santos in the southern Philippines.

"I've been in this kind of situation many times in my previous fights. It doesn't scare me. I love being the underdog," said Pacquiao, amid reports that oddsmakers in Las Vegas, the venue of the May 2 fight, are giving his opponent the advantage.

"It even motivates me to train hard and go for the crown," the 36-year-old said.

The boxing champ appears so relaxed he is even going ahead with his other job - as playing coach of a local professional basketball team in Manila - later this week.

"I will play on Wednesday," Pacquiao told ABS-CBN television.

Boxing fans have been waiting for years for the match between the two men, considered the best "pound-for-pound" fighters of their generation.

After years of squabbling and negotiations, they announced on Saturday they would face off in a match that will unify the world welterweight crowns.

Pacquiao began light training for the fight weeks ago and has been seen running laps and punching bags in preparation for Mayweather.

Following reports in which the Mayweather camp was quoted as criticising his fighting style, Pacquiao said the American would soon learn the difference between watching him on screen and facing him in the ring.

Pacquiao, who has parlayed his boxing fame into a fortune as a commercial pitchman and election as a member of parliament, said he would likely fly to the United States by February 28.

The 38-year-old Mayweather has never lost in 47 fights. Pacquiao has 57 victories and five defeats - including two suffered as recently as 2012.

Pacquiao's American promoter Bob Arum confirmed that the two fighters had not made any provisions for a re-match.

"That wasn't even discussed," he said.

Follow Emirates 24|7 on Google News.