Pacquiao vs Mayweather: Hollywood rolls out red carpet for 'superfight'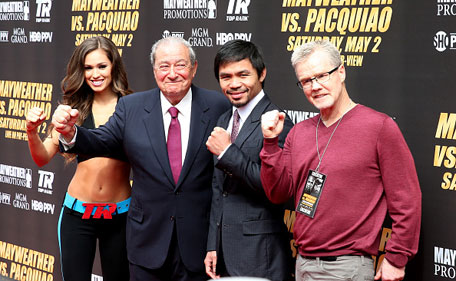 Manny Pacquiao and Floyd Mayweather came face to face Wednesday for the first time since their May 2 mega-fight was announced, as Hollywood rolled out the red carpet for the richest bout in history.

"It's been a long road but we're here now," said the unbeaten Mayweather, as the countdown began to an eagerly awaited welterweight world title showdown under the lights in Las Vegas that has been a long - and at times fraught - five years in the making.

Filipino ring icon Pacquiao countered: "The fight is on and we're very excited. Both of us will undergo hard training and we will do our best on May 2 to make you happy."

The celebrated duo seemed almost subdued - unusual for the often cocksure Mayweather - as they posed and chatted for a phalanx of about 600 media representatives who were recording their every move, in the only joint news conference they will conduct before fight week.

Mayweather, smartly clad in a dove gray suit and pale striped shirt, diamond cufflinks winking, showed only rare glimpses of his 'Money' Mayweather swagger - but did predict he would emerge with his unbeaten record intact.

"I believe in my skill. I believe in myself," said the 38-year-old, who will put his 47-0 record on the line.

Quiet confidence

Pacquiao, 57-5 with two drawn and 38 knockouts, displayed his usual quiet confidence, in a cavernous auditorium normally reserved for pop concerts and Hollywood A-listers.

"I believe I will win on May 2," said the down-to-earth 36-year-old southpaw, who has won world titles in an unprecedented eight weight divisions.

He refused to be ruffled by Mayweather's somewhat half-hearted attempt to get into his head with a reference to the defeats on his resume.

"When you lose, it's in the mind," said Mayweather, widely considered boxing's pound-for-pound king.

"If you lost once, it's in your mind. If you lost twice, it's in your mind. From day one, I was taught to be a winner."

But Mayweather admitted the stakes are higher - and not just because by the time the pay-per-view revenues are counted the fight is certain to be the most lucrative of all time.

"I've never wanted to win a fight so bad in my life," said Mayweather, projected to make an eye-watering $120 million. Pacquiao will pocket $80 million.

Previous bids to put together a fight between the two - most notably in late 2009 - had run aground over various issues, including division of the purse and a drug testing protocol.

Another complication was the fact that Mayweather has a deal with US telecaster Showtime and Pacquiao with fierce rival HBO.

'Monumental'

The two networks are working together on the bout, with HBO Sports president Ken Hershman saying Wednesday the event "transcends boxing for sure and will probably transcend sport."

Showtime's Stephen Espinoza called it a "monumental event."

"Everyone's been discussing this for five years. The fighters have been thinking about it for five years," said Espinoza, predicting the fight would be the "biggest and most lucrative combat sport event the world has ever seen."

Each fighter entered the theater, recently the site of the music industry's Grammy Awards, separately, along an aisle to the stage in an entrance reminiscent of a walk to the ring.

They faced front from the stage - to throaty cheers from their camps and various hangers-on - then swaggered toward each other for a classic pre-fight staredown.

"May 2, the fight of the century," Mayweather declared, sweeping aside suggestions that the bout comes with each fighter past his brilliant best.

"This is a fight that the world can't miss."
Follow Emirates 24|7 on Google News.