Patrick's final NASCAR race ends in crash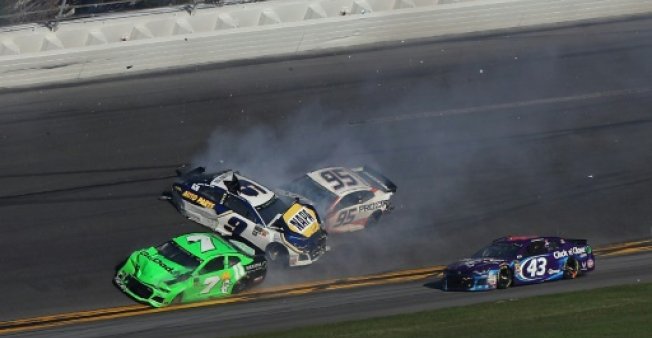 Danica Patrick crashed out of the Daytona 500 on Sunday, putting a damper on the final event of her NASCAR racing career.
The 35-year-old American ended up finishing 35th in Sunday's 200-lap race at the Daytona International Speedway.
Patrick, who broke ground in the sport by becoming the only woman to win a pole position in a NASCAR Cup race, announced in November that she was retiring from racing in 2018.
She was involved in a collision on lap 102 with Chase Elliott, Kevin Harvick, Kasey Kahne and Brad Keselowski.
"It just wasn't meant to be today," Patrick told Fox television afterwards.
"But I am proud -- we raced the whole race...it was competitive. That's all you can do," added Patrick, who was watched by her NFL star boyfriend Aaron Rodgers of the Green Bay Packers.
Patrick plans to race in her final IndyCar race at the Indianapolis Speedway on May 27.
Sunday's smash ends her record-breaking NASCAR career that spanned five seasons and crowned her as the most successful female driver in the sport.
Patrick earned seven top-10 finishes and one pole coming in 2013 when she finished eighth in the race.
Austin Dillon in a Chevrolet went on to win Sunday's NASCAR showpiece, which fell on the 17th anniversary of Dale Earnhardt's death.
Follow Emirates 24|7 on Google News.