Peterson manager blasts 'unprofessional' Khan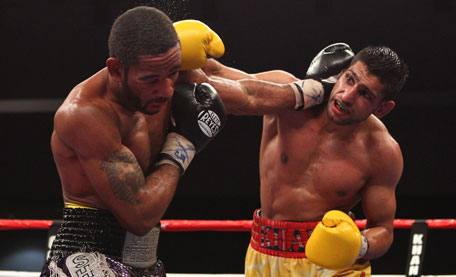 Lamont Peterson's manager Wednesday blasted Amir Khan and Golden Boy Promotions for their refusal to accept the British boxing star's defeat by the American last month.
"It would be an understatement to characterise Lamont as being disappointed in the unprofessional manner in which Khan is attempting to discredit his performance in the ring and victory," Barry Hunter, Peterson's manager/trainer said in a statement.
Khan lost both his World Boxing Association (WBA) and International Boxing Federation (IBF) light-welterweight titles after home-town fighter Peterson was awarded a controversial split-decision victory following their bout in Washington on December 10.
The 25-year-old Khan had questioned the performance of referee Joe Cooper and aired grievances over alleged inconsistencies with the judges' scorecards, finally turning his attention to a mystery individual at ringside, later identified as an IBF official who was there as a spectator.
"Khan blames everyone and everything but his performance and lack of ability to make adjustments in the ring for his loss," Hunter said. "He claims that the Ring Announcer privately stated he won, then that the referee's discretionary actions should be overruled, then a mystery man in a black hat with no association to the Peterson Camp somehow affected the outcome of the bout, and also that the judges did not score the Bout correctly.
"Each claim is boldly false, but because Golden Boy and Khan have the financial resources to file protests and lawyers to create questionable accusations we are forced to address these issues."
Hunter charged that Golden Boy has gone on a media blitz "as some form of retaliation" against Peterson after the American's camp refused their offer of a rematch just days after the fight.
"Real Champions don't continue to come up with various excuses and false accusations in hopes that something will stick to cover up for a loss," Hunter said.
Khan has formally appealed the decision, with his camp hoping for the bout to be declared a no contest so that he would retain his titles.
On Saturday, Golden Boy Promotions executive Richard Schaefer told Sky Sports News that the WBA have offered Khan a rematch with Peterson and urged the IBF to follow suit.
If that report is true, Hunter said, then WBA officials haven't followed their own procedures for reviewing the fight.
"If the media reports are true, the WBA President personally believes there should be a direct rematch of the fight," Hunter said. "This was oddly stated before an official review had taken place, as well as an official response or decision from the WBA review committee had been presented regarding the various protests and our formal submission.
"That makes me wonder what procedures were actually followed before the WBA President made these public statements? The Rules should be followed by everyone."
Follow Emirates 24|7 on Google News.