Power failure gives IndyCar title to Franchitti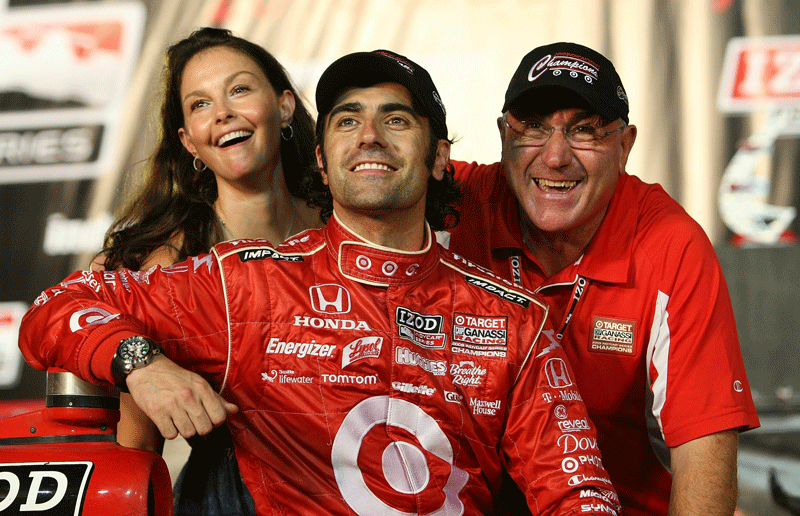 Scotsman Dario Franchitti captured his second consecutive IndyCar season title on Saturday after prior leader Will Power of Australia damaged his car by brushing the outer wall at the Indy 300.
New Zealand's Scott Dixon, Franchitti's teammate at Ganassi Racing, won the 200-lap race on the 1.5-mile oval with American Danica Patrick edging Brazil's Tony Kanaan for second place in the concluding event of the 17-race campaign.
But when Franchitti crossed the finish line in eighth place, he stole the show by taking the season points crown 602-597 over Power. Dixon was third, 55 points off the pace, with Brazil's Helio Castroneves fourth, 71 points adrift.
"We had to car to win," Franchitti said. "I just had to play it conservatively to win the title."
Reigning Indianapolis 500 champion Franchitti won his third season title in four years, missing out only in 2008 for an ill-fated move to US stock cars. He is the first back-to-back champion since American Sam Hornish in 2001 and 2002.
"This is a testament to all the guys and the hard work they do," Franchitti said. "It's an honour to drive this car."
Franchitti became only the fifth driver to win the Indy 500 and the IndyCar season crown in the same year. His only other wins came last month at Chicago and Mid-Ohio while Power won five races this season.
Power had led the points race since June 20, dominating on road courses while never better than third on ovals, and was ahead by 11 points when the race began, although he struggled early with handling issues.
"We definitely weren't quick enough," Power said. "I thought it would be very tough to pass Dario."
Pole-sitter Franchitti was leading with Power fourth when the Aussie went high and scraped the outer wall with his right wheels on lap 135, breaking his car's right rear suspension.
"Very disappointed. I was trying to get around a couple of back-markers and I got up into the gray area," Power said.
Power's crew tried to repair the car but the Aussie fell five laps off the pace and dropped out minutes later in 25th, meaning Franchitti still had to avoid mishaps and finish in the top 10 to claim the crown.
Franchitti was eighth on a restart with 28 laps remaining when Venezuela's Milka Duno crashed into the outer wall directly in front of him, forcing a quick evasive move by the Scotsman to avoid debris and the skidding wreck.
"(Her) car crashed and almost took me out," Franchitti said. "There was a lot of traffic back there. It was certainly a lot better up at the front than it was at the back."
With only nine racers on the lead lap, Franchitti was content to hold his place and claim the title while Dixon pulled away from Kanaan and Patrick at the finish for his 25th victory.
"You could see Will had some problems. He hit the wall which gave Dario a pretty clean way," Dixon said. "I'm happy for Dario and the team and everyone who worked so hard. It's a career team. I'm happy to be here."
Franchitti seized the lead at the start with front-row neighbour Dixon in second, allowing the Scotsman to comfortably work toward the two bonus points for leading the most laps, which with a victory would have meant the crown.
Those standings points were assured for Franchitti after 117 laps, only to become meaningless when Power fell out of the race.
Follow Emirates 24|7 on Google News.