Qatari Al Attiyah wins Dakar Rally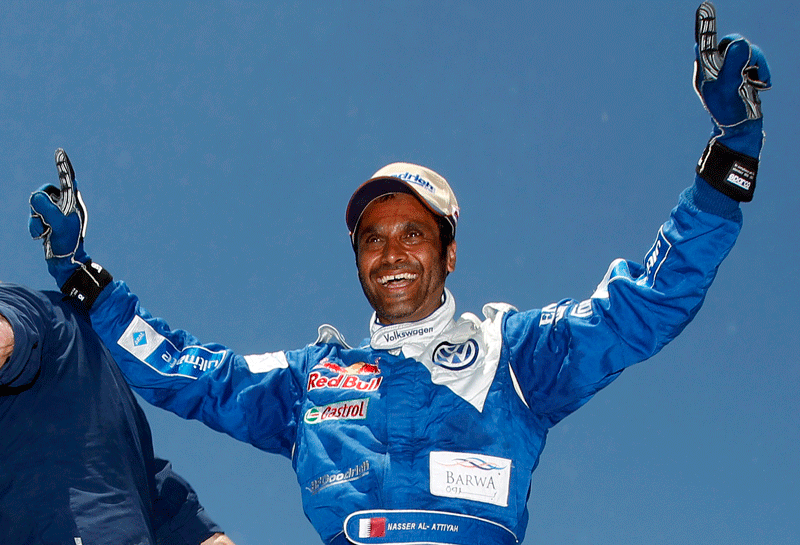 Qatar's Nasser Al Attiyah clinched the Dakar Rally on Saturday, ending two years of heartache on the gruelling event, while defending champion Carlos Sainz was left with the consolation of taking the 13th and final stage.
Versatile Al Attiyah, who helped Qatar to a shooting gold medal at the Asian Games last November and has also appeared at the Olympics, had virtually wrapped up the title on Thursday when Sainz's hopes were shattered by a broken suspension.
That cost the former double world rally champion, a Volkswagen teammate of the Qatari, 80 minutes in lost time.
Victory also helped ease Al Attiyah's misery of being disqualified in 2009 before being edged into second place by Spaniard Sainz in 2010 in a bad-tempered finale when the two men had a spectacular falling out.
"We drove a good, clean stage. I was just thinking about the finish line. It means a lot to win a Dakar, for me, for my people, for my country and for my team," said Al Attiyah.
"It is a great victory. We demonstrated that we have the strongest team in the world. It is the third time the team has won a Dakar. It is also the biggest moment in my career."
Al Attiyah had started the final stage, a 181km timed run from Cordoba, with a 48-minute lead over South African teammate Giniel de Villiers and was never troubled.
He finished 38 seconds behind Sainz, who claimed a record 24th stage win, on Saturday.
De Villiers was fourth on the day, 1 minute 58 seconds behind the Spaniard, to finish 49 minutes 41 seconds behind Al Attiyah in the overall standings.
"Before racing a Dakar, you know it will be tough. All Dakar raids are tough. It's like that. This is how the race goes," said Sainz.
"After two tough weeks, there is nothing left to say. I gave it my very best shot."
Spaniard Marc Coma won his third Dakar motorcycling title while Dutch rider Frans Verhoeven won the stage.
Coma, 34, had been virtually assured of the title going into the stage and rode his KTM carefully to finish 2 minutes 16 seconds adrift of BMW rider Verhoeven.
"That is a lot of work and sacrifices that have gone into winning the Dakar from myself and the backroom staff," said Coma.
"It has cost me a lot. I have had a good year. We gave the bike its debut and worked on it for over a year. I have had a really good team at the Dakar, and I haven't experienced the slightest problem.
"I am happy and emotional, but that is normal, no? It has been a long journey, a lot of built-up tension. And now I have profited from it."
France's defending champion Cyril Despres, also on a KTM, gained 1 minute 32 seconds on Coma on the stage but still finished more than 15min adrift whilst Chilean rider Francisco 'Chaleco' Lopez was third 1 hour 40 minutes behind the Spaniard.
"This special is different if you are in first place as it was the case last year... then you want the race to be shorter. When you are second, you would want the race to be longer," said Despres.
"But anyway, the feeling of finishing a Dakar is always nice especially here with all the people welcoming you. I am sad I could not do better than this though I have raced 11 Dakars, won 3 and ended 8 times on the podium.
"One more would have been great. But I just could not do any better. I made some mistakes; they were two small mistakes but they held some heavy consequences."
Follow Emirates 24|7 on Google News.