Racing drivers to join battle against cancer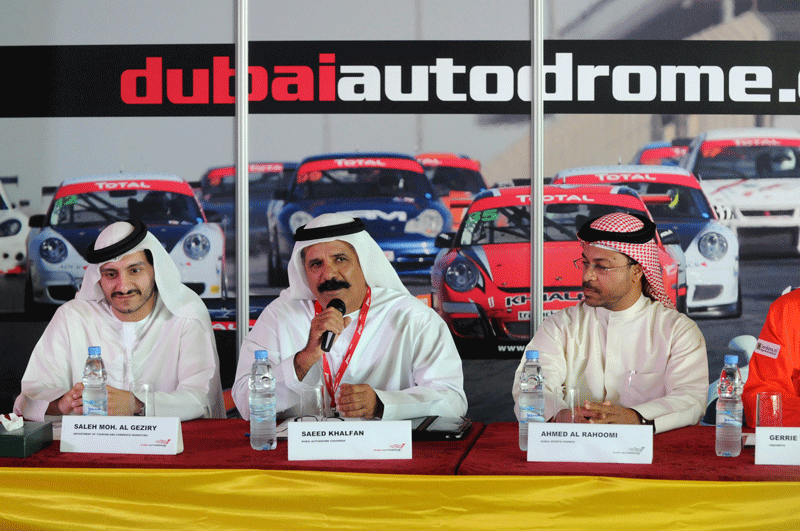 Competitors and teams taking part in the Dunlop 24 Hours of Dubai race at the Dubai Autodrome this weekend will not only be battling for glory but also fighting against cancer.
"Many of the teams will donate 10 euro each lap they drive and all will end up to make a good fund for this cancer project," Creventic Event Organiser Gerrie Willems revealed at a press conference on Wednesday.
"This time we have a special project to fight cancer. We are raising some funds to fight cancer. We already have lots of team who have joined us and therefore we have made projects for fighting cancer lap by lap," said the Holland-based organisers of this endurance room.
A record number of 90 teams from 30 countries have been received for the sixth edition of the Dunlop 24 Hours of Dubai which will be flagged off at 2pm on Friday.
Dubai Autodrome Chairman Saeed Khalfan welcoming the competitors said this was an endorsement of the growing popularity of this endurance. "It is the perfect way to start the year's motor racing calendar, and we at Dubai Autodrome are proud to be hosting such a prestigious event and build on last year's success," said Khalfan who wants to be break to attract 100 entries next time.
Lauding the organisers Creventic BV for putting together an impressive array of entries from around the globe, Khalfan said: "We are confident that Dubai Autodrome will once again accommodate everyone comfortably while providing high class racing. On the grid will also be a number of UAE teams and drivers from our very own Cytech UAE GT Championship and Total UAE Touring Car Championship. This makes us proud as we continue to build motorsport at national and grassroots level in the region."
Willems also noted that Emiratis are becoming more competitive in this race. "We are happy to see more and more people from Dubai participating. We have 10 or 12 from UAE. At first there was no one. Now they are competitive," he said.
This year sees one of the strongest fields ever assembled as the dominant Porsche juggernaut faces the sternest challenge from the likes of Mercedes and BMW.
Thursday sees a full day of action with practice and qualifying.
"For race fans, admission to watch this world-class event is free and, besides the amphitheatre and the grandstand, visitors will also allowed in the paddock to get a first-hand feel of the excitement. The endurance race weekend delivers a unique atmosphere in the tradition of great motorsport endurance events such as Le Mans, Daytona and Spa," said Khalfan who thanked Dunlop for backing the event.
"To the sponsors such as Dunlop we applaud their vision in backing this event and we welcome our partners such as the Dubai Department of Tourism and Commerce Marketing (DTCM), Dubai Ambulance Services and Dubai Civil Defence.
"To the drivers and teams I trust that your stay will be comfortable and trouble free. Enjoy our splendid city and what it has to offer. I wish that you all have good fortune in the Dunlop 24 hours race at our circuit and may the best team win."
Khalfan, who hosted the press conference, was joined at the top table by Saleh Mohammed Al Geziry (DTCM Director of Overseas Promotions and Inward Missions), Ahmed Mohammed Al Rahoomi (Dubai Sports Council Director of Corporate Communications and International Relations) and Gary Wassell (Dunlop Motorsport Manager) apart from Willems.
Also present at the function were a number of drivers and team managers who during the course of the conference gave their views about participating in the event.
Californian race driver and team boss Boris Said said: "This is my first visit to Dubai and all I can say is that this is an amazing place. You have to come here to believe it. Hospitable people, amazing buildings and a real honour to be racing at Dubai Autodrome this weekend."
"This race has grown tremendously with 90 team, over 400 drivers and 3,000 crew members. Dubai is a popular destination because of its easy accessibility, hotels, entertainment and because it always offers something new," said Al Geziry pointing out that Dubai International Airport serves some 130 airlines from 250 destinations while there has been an increase of 10,000 hotel rooms from last year.
Al Rahoomi said the Dubai Sports Council since it was creation has a vision of creating a unique sports community. "Dubai Sports Council is proud to be part of such an event in Dubai. Last year we had great events from Sport Accord where most decision makers from all over world came to Dubai, Table Tennis World Cup and the World Swimming Championship (25m) held in unique venue," he said.
Follow Emirates 24|7 on Google News.