Revealing the identity of the woman whom Messi warmly embraced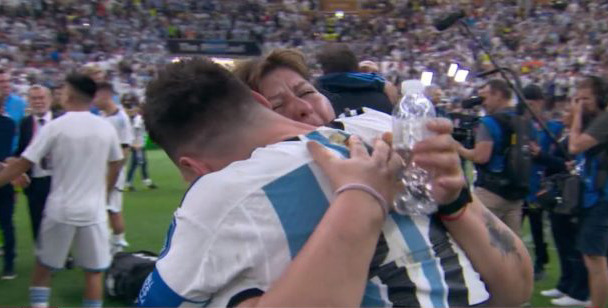 A video clip appeared on social media in several languages around the world, which was said to show Lionel Messi's mother embracing him after the final match in the Qatar 2022 World Cup.
It is true that the Argentine player's mother was present on the field and actually hugged him after the match with France ended, but the woman who appears in the video embracing him is not his mother but the cook of his country.
In the video, a woman wearing a white and blue shirt in the colors of the Argentine flag appears, approaching Lionel Messi from behind, pulling him to her, and hugging her warmly, laughing, as she appears to be crying.
The accompanying comments read, "Leo Messi's mother celebrates with her son after winning the World Cup."
The video, in this context, garnered hundreds of posts and hundreds of thousands of views on social media in several languages around the world. It was also published by Arab and foreign media.
Lionel Messi's mother, Celia Maria Cuccini, attended the final match that resulted in Argentina's victory over France on penalties and won the 2022 FIFA World Cup, and photos taken by AFP photographers showed her among the fans.
After the match ended, Celia Maria Cuccini actually went down to the stadium and hugged her son among his teammates, according to another photo taken by an AFP photographer. And she was wearing a dark blue shirt, not a white shirt like the one worn by the woman appearing in the circulating video, except for the difference in facial features and physical structure.
This same video was published by Argentine media, including widely circulated newspapers, and websites and accounts specialized in sports, especially by following the Argentine team. According to these websites and accounts, the woman shown in the video is the Argentine national team's chef, Antonia Farias.
And Argentine websites suggested that Messi's warm embrace was what made many think that she was his mother.
And the Argentine national team's account on Twitter had previously published a picture of Antonia Farias with Messi.
Follow Emirates 24|7 on Google News.