Rival Lotus teams launch 2011 battle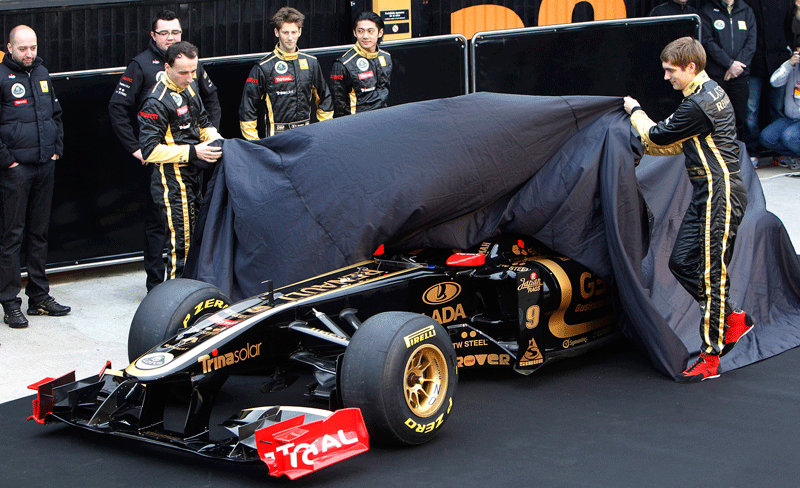 The newly-formed Lotus Renault GP Formula One team on Monday unveiled its new car for 2011 with its striking black and gold livery, as rival Team Lotus also sought to grab the limelight with an online launch just hours earlier.
"We gave our engineers a blank sheet with this new single-seater. Only one instruction: be daring, try to innovate, take risk," said team chairman Gerard Lopez.
"It's a very special moment, we are presenting a car that has some special colours," he told a news conference at the Ricardo Tormo circuit near Valencia, adding that Formula One legend Jackie Stewart would be a new partner in the team.
He said last season was "not easy" and the team aimed to "do better in both the drivers' and constructors' championships".
The new R31 will have "over 92 percent new components," and is "living proof of our desire to push back the limits and fight at the front."
Technical Director James Allison said "the entire concept of the R31 differs considerably from any car this team has ever produced".
Renault finished a disappointing fifth in the constructors' championship last season, with drivers Robert Kubica of Poland and Russia's Vitaly Petrov in eighth and 13th places respectively.
But the Lotus group, which is owned by Malaysian automaker Proton, has taken a major equity stake in the team for this season, which is now renamed 'Lotus Renault GP'.
"We are definitely more prepared this year, we are in a more stable situation," said Rubica. "The 2009-2010 season was very difficult for Renault."
"It's good to have Lotus as a partner, it's given even more stability, although I read a lot of rumours about the name on the Internet."
Meanwhile, Team Lotus, which returned to Formula One last season under Tony Fernandes, the flamboyant founder of Malaysia-based budget carrier AirAsia, will be competing on the grid separately this year.
In September, Proton terminated Fernandes' licence, forcing him to drop the original name of Lotus Racing and compete as Team Lotus. However, the issue was not resolved by the name change and legal action is ongoing.
In what was seen as a snub to Lotus Renault, Team Lotus launched its new car online a few hours before that of its rival.
"There has been so much focus off-track it's a thrill to be able to get back to talking about racing," said Fernandes.
Keith Saunt, chief operating officer of Team Lotus said: "You can just see that this car will be faster than last year's. It's got the right sweeps and curves on it - it's the very latest iteration of what an F1 car should be."
Riad Asmat, Team Lotus chief executive officer, said the new T128, which has green and yellow livery, takes the outfit "in exactly the right direction".
"We have said since day one of the Team Lotus dream that the plan for our second year was to take the fight to the midfield, and with this car we are all confident that is what we will be able to do."
Follow Emirates 24|7 on Google News.