Roach likes Dubai for mega title bout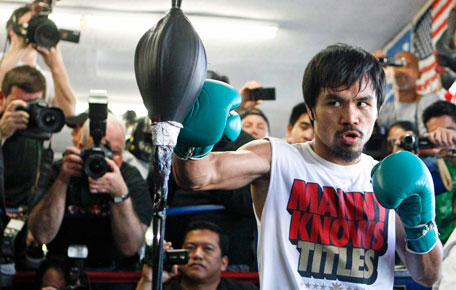 Manny Pacquiao's trainer Freddie Roach says a May 5 bout against Floyd Mayweather remains a possibility but that a later date in Dallas or Dubai would be a better option for the mega showdown.
Mayweather called out Pacquiao Tuesday, writing on his social networking site Twitter to "Step up punk."
Roach scoffed at Mayweather's challenge to fight on May 5 in Las Vegas but said he welcomes the undefeated US boxer's willingness to step in the ring with his Filipino dynamo.
"We have been chasing this guy for two years and he receives a get out of jail card and now he wants to fight," Roach said Friday at his Wild Card Boxing Club.
"Dallas would be the best place to put on that fight in the US because you could get 100,000 people in Cowboys Stadium but Dubai is the best moneywise."
Roach said a group from the Dubai is willing to pay huge sums so that the title fight can be staged in the UAE.
"There were negotiations with people from Dubai. I met with a group of people who were negotiating with (Pacquiao's financial adviser) Michael Koncz," Roach said.
Roach said May 5 is possible but not practical for a number of reasons, including talks that are currently ongoing with another fighter.
"I want Mayweather as much as anyone," said Roach, who is the subject of a new HBO series called "On Freddie Roach" which airs January 20. "A May 5 date is a possibility but a June date would be much better because we would have more time to train.
"Manny always stays in good shape. If it was up to me I would pick the later date. But I also like a challenge."
The problem with a fighting after May is that Mayweather is supposed to report to jail on June 1 to serve a 90-day sentence for a domestic violence conviction.
Roach said they shouldn't move too quickly on a fight of this magnitude because it should be promoted properly on a grand scale.
"That's a fight you really have to promote. A May date could be rushing it.
"Some of our other big promotions have included 12 cities in 14 days and we should take the time to do something similar.
"It is good that Mayweather wants to fight now. I believe it will happen soon."
Mayweather and Pacquiao, 33, previously saw a fight derailed by the US fighter's demands about blood testing, with both boxers accusing the other of running scared.
Boxing promoter Bob Arum said he favours a showdown in late May and previously told the Los Angeles Times he could secure $40 million more with the construction of a temporary venue in Las Vegas.

Follow Emirates 24|7 on Google News.