Round two of UAE Jet Ski Championships on Saturday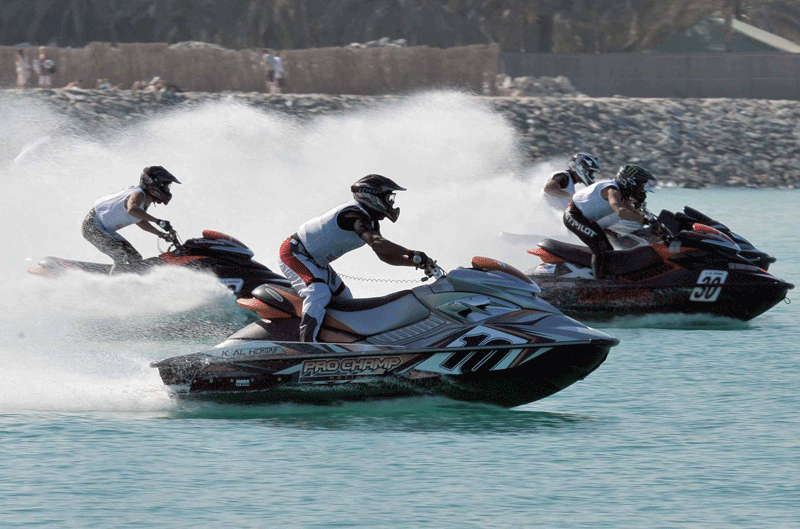 After thrilling the crowds along The Walk, Jumeirah on New Year's day, the UAE Jet Ski Championships will return this Saturday for an exciting second round off shore from the unique Dubai Properties Group venue, The Walk Jumeirah.
Organised by Dubai International Marine Club (DIMC) as part of a seven-round competition in conjunction with Abu Dhabi and Fujairah, the championship involves teams from ten countries and the leading skiers in the world racing in six categories with over 70 competitors.
"It is quite a display," said the DIMC organising committee chairman, Huraiz Al Mur Bin Huraiz. "The race starts last week were very impressive as they were straight off the beach and really energised the crowd as they were so close to the action. The venue is perfect for this sport, easy to police with good accessibility from the land and sea with plenty of parking space and other attractions as well as restaurants and shops. The spectators and general atmosphere of the venue added a special edge to the races last week and we plan to work on ways to develop this."
From the riders' point of view, the area offers new challenges.
"Usually we race in the shade of Logo island where the water is very flat. But the choppier sea conditions in front of Jumeirah Beach Residence gives us a different set of conditions to work with and provides another level of competition which is great," said Nadir Bin Hendi, the current Pro Ski world champion.
Race One will start on Saturday at 10:30 and Race Two at 2.30pm.
Follow Emirates 24|7 on Google News.