Sainz fights back with stage win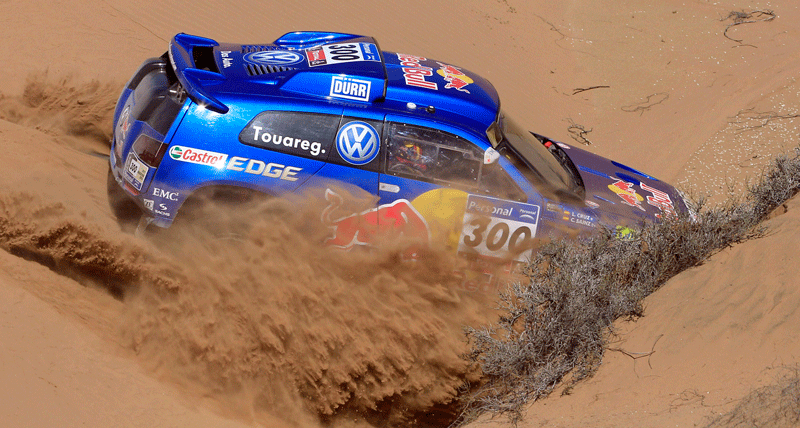 Carlos Sainz of Volkswagen won the ninth stage of the cars section of the Dakar Rally on Tuesday, a 235km special around Copiapo in northern Chile.
The defending champion's victory saw him close in on overall leader and teammate Nasser Al Attiyah, who finished second, despite a puncture, ending a run of two successive stage wins.
Sainz, the defending champion, trimmed 1 minute 56 seconds off Al Attiyah's lead to close the gap to 3 minutes 18 seconds and said he was delighted to have won a stage that he hadn't felt was one he would enjoy.
"I am happy with my day, especially as we were not racing on my favoured terrain, the dunes, the off road track and the desert," said the 48-year-old, a two-time world rally champion.
"We succeeded in what was a good special stage."
Al Attiyah - who is not on friendly terms with his Spanish team-mate - said that he too was happy with his day and was relieved not to be starting out on the road first on Wednesday which is the stage winner's honour.
"I am happy to have got through this day without a problem," said the 40-year-old Qatari, who finished second last year.
"The car is going really well. On Wednesday it will be interesting because we will depart in second position.
"By starting first one always loses time. Tomorrow I am going to follow Carlos, and stick to that strategy," added Al Attiyah, who is also a notable shot and finished fourth in the skeet competition at the 2004 Olympics.
American rider Jonah Street won the ninth stage in the motorcycling category.
The Yamaha rider finished the 235 kilometres special stage over three-and-a-half minutes ahead of Dutchman Frans Verhoeven on a BMW.
"It is fantastic!" beamed Street, who finished seventh overall last year.
"Until now we had had nothing but bad moments on this rally.
"Things were never to our advantage. This is very moving for me. We come here to give of our best. So to win a stage, is really something special," added Street, who won a stage on the 2009 edition.
In the race for overall winner Frenchman Cyril Despres made up some ground on Spanish leader Marc Coma, as he reduced his overall lead by over a minute, though he still trails by over eight minutes.
Follow Emirates 24|7 on Google News.