Serena Williams hot favourite for top Laureus World Sports Award after great year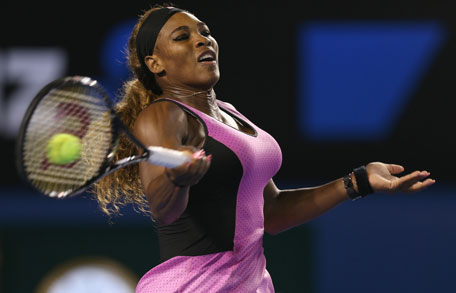 Serena Williams is once again one of the favourites for nomination for the 2014 Laureus World Sports Awards after another spectacular year.

However, she will have to fight off a formidable challenge from some of the greatest sportswomen in the world if she is to win a record-equalling fourth Laureus Award, says tennis legend Martina Navratilova.

Among those also in the running for the prestigious award are Shelly-Ann Fraser-Pryce, the fastest woman on earth, American teenage swimming sensations Missy Franklin and Kate Ledecky, skiing world-beater Tina Maze and seven-time world squash champion Nicol David.

The Laureus World Sports Awards, now celebrating its 15th year, is recognised as the premier honours event in the international sporting calendar.

The names of the six Nominees for the Laureus World Sportswoman of the Year Award, as voted by the Laureus Media Selection Panel, will be announced later this month and the winner unveiled at the Awards Ceremony in Kuala Lumpur on March 26.

Serena Williams, winner of Laureus Awards in 2003, 2007 and 2010, seems to get better with age.
She won the French Open and US Open Grand Slam titles to take her career total to 17 – just five behind Steffi Graf and one behind Chris Evert and Martina Navratilova.

When she regained the world No 1 ranking in February 2013, she became the oldest woman in the Open Era, at 31, to achieve it.

She won eight other tournaments, including the WTA Championship, taking her career prize money to $50 million.

Laureus World Sports Academy member Navratilova said: "Once again Serena Williams has had a great year. I didn't think a couple of years ago that she would be passing me with Grand Slam singles titles, but she's so focused and fresh, there is no telling just how many more titles she will win. She might set a whole new mark. It is supposed to be more difficult to win the Slams when you get older, but Serena is making it look easy. At the moment she is head and shoulders above the competition.

"The sky's the limit for her in tennis, but Serena does have tough competition this year for her fourth Laureus Award. There have been some wonderful performances in so many sports, particularly from some of the younger athletes like Missy Franklin and Kate Ledecky, and of course great champions in their own sports like Inbee Park, Shelly-Anne Fraser-Pryce and Tirunesh Dibaba. You could make a case for almost any of them to win the Award this year, but my money is on Serena."

In 2013, Jamaica's Shelly-Ann Fraser-Pryce established herself as the outstanding female sprinter of her generation with three gold medals at 100, 200 and 4x100 metres relay in Moscow, becoming the first female to achieve this in a single World Championships.

Her 100m time of 10.71 secs was the fastest of the year. This success followed her Olympic 100m gold medals in 2008 and 2012 and 100m gold in the 2009 World Championships. In November she was named IAAF Female World Athlete of the Year.

Two American swimming teenagers are also in the mix for nomination.

Missy Franklin was a sensation in Barcelona, becoming the first woman in history to win six gold medals at a single World Championships – three individual and three relay - at the age of just 18. She continues to refuse prize money and endorsements so that she can maintain her amateur status in college.

At just 16, Kate Ledecky won four gold medals and set two new world records in the World Championships. A freestyle specialist, she won at 400, 800 and 1,500 metres, as well as the 4×200 metres relay. She was named best female swimmer of the meet.

Slovenian skier Tina Maze produced one of the most amazing seasons ever seen in skiing. She won the Overall, Super-G, Giant Slalom and Combined World Cup titles, plus the Super-G gold medal and silver medal in Combined at the World Championships in Schladming.

She had 11 wins, a record number of World Cup points (2,414) and the highest ever number of podiums (24). She secured the Overall World Cup title nine races before the end of the season.

Malaysia's Nicol David showed her total dominance of women's squash in 2013. Her victory in the Hong Kong Open in December was her sixth World Tour title of the year, which included the China Open and the US Open.

It was also her 71st World Tour career win and a record-equalling 90th World Tour final appearance. She has been No.1 in the world rankings since August 2006 and has won the World Squash Championship a record seven times.

In addition to Shelly-Ann Fraser-Pryce, the World Athletics Championships in Moscow produced some outstanding performances.

New Zealand's shot putter Valerie Adams became the first woman to win four straight individual world titles, Ethiopia's Tirunesh Dibaba won the 10,000 metres gold medal to add to her Olympic gold from London, Yelena Isinbayeva won the pole vault gold medal in front of her home Russian crowd for her third outdoor world title and Britain's Christine Ohuruogu followed up her Olympic silver medal in London in 2012 with the 400 metres gold in Moscow.

In other sports, South Korea's Inbee Park was the most dominant player in women's golf. The world No 1 won the first three Major Championships of the year – the Kraft Nabisco, Wegmans LPGA and the US Women's Open; the first time since 1950 that this had been achieved.

At 24, she was the youngest golfer to win the US Women's Open. She won three other events on the LPGA Tour and collected over $2.4 million prize money.

Nadine Angerer, captain of the German team which won their sixth straight European Championship, became the first goalkeeper to win the FIFA Women's World Player of the Year.
Angerer, who plays for Portland Thorns in the US National Women's Soccer League, saved two penalties in Germany's 1-0 win over Norway in the final in Stockholm.

Dutch cyclist Marianne Vos produced a dominant performance at the cyclo-cross World Championships in February, winning her fifth straight world title and her sixth overall.

In September she won her third UCI World Road Race Championship after riding away from her challengers on a steep climb in the final lap.

China's table tennis star Li XiaoXia beat compatriot Liu Shiwen in Paris to win her first individual World Championship and complete a career grand slam.

Li had twice finished runner-up at the World Championships but finally took the crown, adding it to the 2008 World Cup, the 2012 World Championships Team title and the Olympic gold medal she won in London.

The Laureus World Sports Awards recognise sporting achievement during the calendar year 2013.
The names of the six Nominees for the Laureus World Sportswoman of the Year Award, as voted by the Laureus Media Selection Panel, comprising leading sports editors, sports writers, broadcasters and online journalists from around the world, will be announced on Wednesday, February 26, along with the names of Nominees from six other categories.

The eventual winners will then be chosen in a secret ballot by the ultimate sports jury, the 46 members of the Laureus World Sports Academy - the living legends of sport honouring the greatest athletes of today – and unveiled at the Laureus World Sports Awards Ceremony, to be staged in Kuala Lumpur on March 26.

Among those who have been honoured at previous Awards ceremonies are Sebastian Coe, Novak Djokovic, Roger Federer, Alex Ferguson, Lewis Hamilton, Rafael Nadal, Pelé, Michael Phelps, Steve Redgrave, Ronaldo, Michael Schumacher, Kelly Slater, Serena Williams and Zinedine Zidane.

YB Dato' Seri Mohamed Nazri, Minister of Tourism and Culture of Malaysia, said: "Kuala Lumpur is honoured to have been given the privilege of hosting the prestigious 2014 Laureus World Sports Awards and the city looks forward to staging this internationally-renowned event and welcoming a plethora of sporting legends to Malaysia. This is a sports-loving country and I can promise warm Malaysian hospitality awaits all our guests."

Proceeds from the Laureus World Sports Awards directly benefit and underpin the work of the Laureus Sport for Good Foundation, which supports more than 140 sports-based community projects in 34 countries around the world that have helped to improve the lives of over one-and-a-half million young people.

Members of the Laureus World Sports Academy volunteer their time to act as global ambassadors for the Laureus Sport for Good Foundation, whose mission is to use sport as the means to combat some of the world's toughest social challenges facing young people today such as juvenile crime, gangs, HIV/Aids, discrimination, social exclusion, landmines awareness, education and health problems such as obesity. Since its inception Laureus has raised over €60 million to support projects around the world.
Follow Emirates 24|7 on Google News.