Sharapova's failed drug test 'black eye' for tennis - Nadal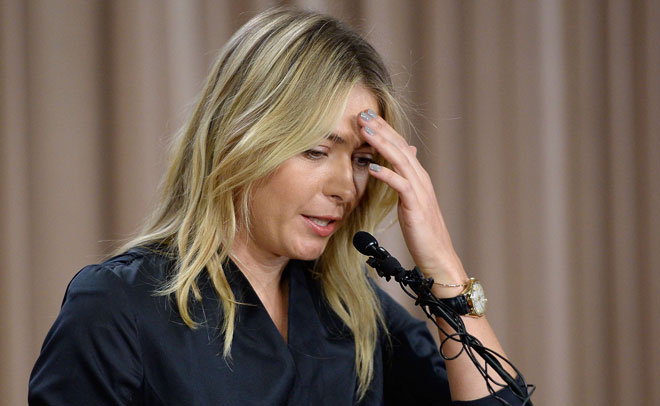 Tennis professionals rocked by Maria Sharapova's admission that she had failed a drug test are now waiting to see what sanction the Russian superstar will face.
Sharapova's positive test for meldonium was the talk of the locker room as the hardcourt tournament at Indian Wells got under way on Wednesday.
Two-time Wimbledon champion Petra Kvitova said she was "shocked" and world number three Agnieszka Radwanska described it as a "sad day for tennis."
Radwanska said she was in the locker room in Indian Wells with a group of WTA players getting ready to train for this week's tournament in southern California when she heard the news on Monday.
"It is a sad day for tennis," Radwanska said.
"Nobody expected that. We are all waiting to see
what they are going to do about it."
Czech Kvitova said Sharapova had made a "huge mistake" by not paying more attention to what drugs are on the banned list.
"We should all know what we are putting into our body," she said. "It was a huge mistake and she is taking responsibility for it."
Sharapova revealed on Monday that she had failed a drug test at the Australian Open in January, saying she had taken the circulation-boosting drug used to treat heart ailments since 2006, but had not spotted that it was added to the banned list as of January 1.
Sponsors of the world's highest-earning sportswoman immediately distanced themselves, with Nike, Porsche and TAG Heuer all halting their relationships with the former world number one.
The five-time Grand Slam winner could face a ban of up to four years, although her lawyer John J. Haggerty told the Daily Telegraph on Wednesday that he believed she can plead mitigating circumstances and receive a lesser punishment.
"There is no evidence whatsoever that this was intentional on Maria's behalf," Haggerty said.
Sharapova, whose on-court prowess and business savvy have brought her an estimated personal fortune of $200 million (180 million euros), wrote on her Facebook page that she woke up early Wednesday morning determined to fight through the scandal and eventually continue her career.
"New day, new start. It is fair to say that this day was not average," Sharapova wrote. "Nothing came to mind at 6am, except that I am determined to play tennis again and I hope I will have the chance to do so.
"I wish I didn't have to go through this, but I do - and I will."
Spain's Rafael Nadal, who has won 14 Grand Slam titles, said Sharapova's positive test is a black eye for the sport.
"It is terrible news for our sport," Nadal said. "It is terrible because our sport must be clean and look clean.
"The good news is we have a good anti-doping programme."
The majority of the players who spoke to reporters on Wednesday chose their words carefully, most expressing shock but adding that it is up to the individual to check which drugs are on the banned substance list.
The women's main draw at Indian Wells began Wednesday while the men kick off their first round Thursday in one of the biggest events of the season outside of the four Grand Slams.
Kvitova said Sharapova's failed test shows that the doping control officials are on top of things.
"This is an example that they are doing everything to have a clean sport. I think the system is working."
Former US Open singles champion Svetlana Kuznetsova said Sharapova should not be tried in public and her fate should be left in the hands of tennis officials.
"First of all, I want to say that Maria is a great athlete and even this 'strange mistake' will not be able to outshine all of what she has achieved in tennis," Russia's Kuznetsova said on her Twitter account.
"And most importantly none of us, especially me, have no rights to comment on this story - not to criticize or evaluate Maria. The doping agency has to see this case not others."
In first round women's action on Wednesday, Heather Watson, who is fresh off winning the Monterrey Open on Sunday, outlasted Galina Voskoboeva 7-6 (7/4), 4-6, 6-1, Dominika Cibulkova breezed past Katerina Siniakova 6-2, 6-0 and Yulia Putintseva pounded Peng Shuai 6-0, 6-1.
Follow Emirates 24|7 on Google News.