Sheikha Latifa wins Dubai Grand Prix FEI World Cup qualifier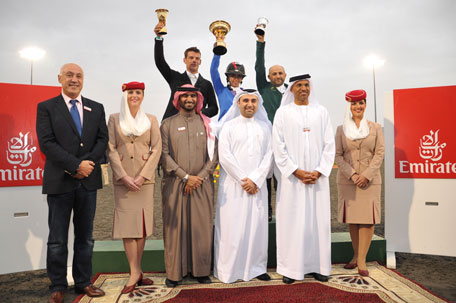 After finishing third last year, Sheikha Latifa bint Ahmed Al Maktoum returned on Saturday to win the featured Emirates Airline Dubai Grand Prix FEI World Cup Qualifier with a dominating performance nearly three second better than runner up, Ferenc Szentirmai of Ukraine.

As the featured event of the Dubai Showjumping Championship 2013 CSI*** - W Dubai (World Cup Arab League) the Dh170,000 Dubai Equestrian Club (DEC) Grand Prix FEI World Cup brought forth the top 33 riders that qualified from Friday's Dubai Cup.

The field was then narrowed to nine in the jump off finals with six countries represented.

Sheikha Latifa guided her mount, Peanuts De Beaufour to an impressive 48.48secs to clinch the win for the UAE.

Szentirmai clinched second astride Corenso with a time of 51.07secs to edge Saudi Arabia's Ramzy Al Duhami, who guided Bayard Van De Viilla Theresia with a time of 51.61secs.

The final day of competition at the Dubai Showjumping Championship began with the Longines Accumulator, a Dh80,500 competition that featured an impressive 1-2-3 finish by UAE riders led by Ahmed Al Juneibi.

Astride Ucorado B, Al Junaibi was masterful as he completed the jumps in 55.13secs to best Rashid Al Rumaithi who finished in 57.87secs aboard Caisun.
Abdullah Mohammed Al Marri completed the top-three finish sweep by the UAE as he took third with a time of 59.41secs aboard Alaska.

An international field of 54 competitiors, representing 19 countries, contested in the Accumulator, an event that allows competitors to select the jumps they will contest.

Each of the fences cleared is worth a given amount of points based on difficulty. The winner is decided by the highest point total and fastest time.

The UAE riders each completed the jumps that earned them a total of 65 points.
Follow Emirates 24|7 on Google News.