Shocking revelation: Ronda Rousey considered suicide after brutal loss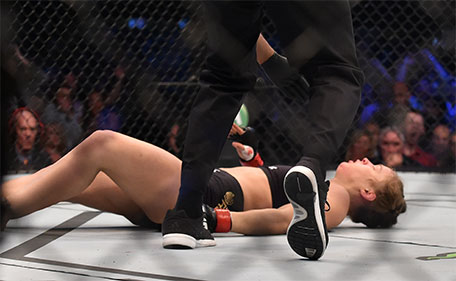 Mixed martial arts star Ronda Rousey revealed on Tuesday she had fleeting thoughts of committing suicide in the immediate aftermath of her crushing upset defeat to Holly Holm in Melbourne last year.
Speaking in an interview on The Ellen DeGeneres Show, Rousey revealed she had been left distraught after being knocked out by Holm in a one-sided defeat which left her needing hospital treatment.
"Honestly, my thought in the medical room, I was sitting in the corner and was like, 'What am I anymore if I'm not this?'" said Rousey.
"Literally sitting there thinking about killing myself. In that exact second, I'm like, 'I'm nothing. What do I do anymore? No one gives a shit about me anymore without this'."
Rousey, a former Olympic judo medallist whose father committed suicide when she was eight years old, said the support of her boyfriend, UFC heavyweight Travis Browne, snapped her out of her despair.
"I looked up and saw my man, Travis, was standing there," Rousey said.
"I'm looking up at him and was just like, 'I need to have his babies. I need to stay alive'."
Rousey is hoping to eventually secure a rematch against Holm, a former world boxing champion who comprehensively out-fought her in their first fight despite being a massive underdog.
Rousey suggested her punishing schedule - the Holm fight was her third title defence in nine months - had caught up with her.
"It's always crazy going into every fight," Rousey said.
"It's always so much chaos, so much going on. Things weren't perfect, they never are. One thing that was different was it was my third title fight in nine months.
"I don't think anyone has even attempted that before. I don't make excuses. I've fought in worse conditions, but I think one thing that was different was I felt tired - but I've been more tired."
Follow Emirates 24|7 on Google News.