Skynet clinch Al Nasr 6-a-side hockey title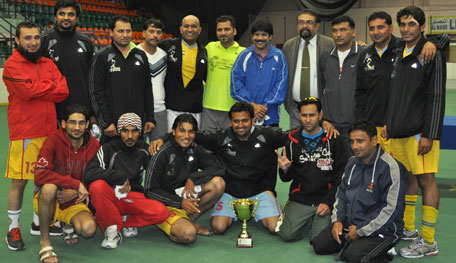 AFHC (Skynet) won the Al Nasr Leisureland 6-a-side Indoor Hockey Tournament.
The winners played aggressively with the combination of Ahmed, Sohail, Majid, Naveed, Sami, Ashfaq and goalie Busharat prove too good.
The indoor event had the Top 16 hockey teams within the UAE.
After the group league matches, the quarter-finals were a double delight for the spectators who witnessed a few top teams edging out.
AFHC (Skynet) won the first quarter-final 3–2 against Beatrice Hockey Team on penalty strokes.
UEHC Huawei won the second quarter final 1–0 against UTSC 'B' team when Waheed scored in the dying seconds of the match through a pass by former Pakistani Olympian Waseem Feroz.
Axiom Hockey team were edged out by UEHC Pak Ravi 2–1 while Trupac UAE overcame a strong UTSC 'A' team on penalty strokes 5–4.
A ladies exhibition match was also played before the semi-finals between Blue Rhine and UAE Falcons where UAE Falcons won 2–1.
AFHC (Skynet) won the 1st semifinals through penalty strokes 3–2 against UEHC Huawei while UEHC Pak Ravi won 1–0 against Trupac UAE in a close match.
However, Trupac UAE team beat UEHC Huawei 4–0 to win the third place trophy.
In the final, another tight game between AFHC (Skynet) and UEHC Pak Ravi resulted in a draw. But AFHC (Skynet) won 3–2 on penalty strokes to emerge champions.
The presentation committee included Raza Abidi (Media Coordinator of UAE Hockey Committee) while Chief Guests for the event were former Pakistani Olympian Waseem Feroz and CT Matthew Operations Manager of Al Nasr Leisureland along with organisers Anjum Zia and Qadeer Hussain who presented the winning teams with the accolades and thanked all participating teams and hockey enthusiasts for witnessing the event.

`
Follow Emirates 24|7 on Google News.