Slum girl to silver screen: Uganda's chess prodigy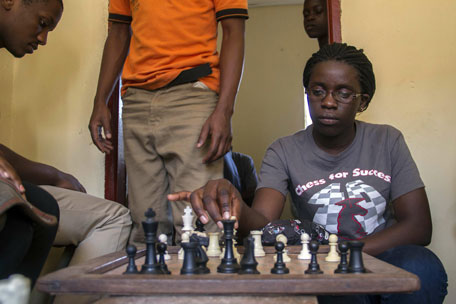 Phiona Mutesi happened upon chess as a famished nine-year-old foraging for food in the sprawling and impoverished slums of the Ugandan capital.

"I was very hungry," said Mutesi, aged about 18.

Now a chess champion who competes internationally, her tale of triumph over adversity is being turned into a Hollywood epic with Oscar-winning Kenyan actress Lupita Nyong'o tipped to play her mother.

"My dad had died, and after the age of three we started struggling to get food to eat, my mum was not working," Mutesi told AFP. They lived on one meal a day.

She was forced to drop out of school aged six when her mother could not pay the fees.

"You can't just wake up and say 'today': you have to plan first."

One day, Mutesi discovered a chess program held in a church in the Katwe slum districts in Kampala. Potential players were enticed with a free cup of porridge, and Mutesi began organising her days around this.

"It was so interesting," she recalled of her introduction to pawns, rooks, bishops, knights and kings in 2005. "But I didn't go there for chess, I went just to get a meal."

As she returned week after week, something unexpected happened that would transform Mutesi's life.

'Incredible impact'

The young girl developed a talent for chess, which was only introduced in Uganda in the 1970s by foreign doctors and was still seen as a game played by the rich. And her talent turned into a passion.

"I like chess because it involves planning," said Mutesi. "If you don't plan, you will end up with your life so bad."

The film, entitled "Queen of Katwe", is based on a book of the same name about Mutesi by American writer Tim Crothers. It is to be shot in Uganda and South Africa, directed by Mira Nair. Filming will reportedly begin in late March.

Coach and mentor Robert Katende, of the Sports Outreach Ministry, remembers Mutesi wearing "dirty torn clothes" when he met her a decade ago.

"She was really desperate for survival," said Katende, who is building a chess academy to accommodate 150 students outside Kampala.

Two years into the game, Mutesi became Uganda's national women's junior champion, defending her title the next year.

"Phiona Mutesi has flourished," Vianney Luggya, president of the Uganda Chess Federation, told AFP. "She made history in the schools' competition by becoming the first girl to compete in the boys' category. It was certainly surprising."

By the time she participated in her first international competition, Africa's International Children's Chess Tournament in South Sudan in 2009, Mutesi still had not read a book.

'Believe in yourself'

"It was really wonderful because it was my first time abroad," she said. "It was my first time to sleep in a hotel. We came back with a trophy."

Since then Mutesi has competed in chess Olympiads in Russia's Siberia, in Turkey -- after which she was given the Woman Candidate Master ranking by FIDE, the World Chess Federation -- and in Norway last year.

The teenager, who has two more years of high school left, hopes to go to the next Olympiad in 2016 in Azerbaijan.

Overseas, Mutesi has also played against her hero, Russian former world champion and Grandmaster Garry Kasparov, and inspired school students in the US to start a tournament in her name.

Back home, her fame has had "an incredible impact", said Luggya.

"The number of lady players participating in national chess championships has doubled," he said, adding that each of the 26 schools set to compete in Uganda's annual championships in April will have girls and boys teams.

Uganda's female players have also been spurred on by the success of Ivy Amoko, who became east Africa's first FIDE Master last year.

A recent week-long chess clinic, involving Mutesi, attracted more than 200 participants, most of them female, from Kampala slums and surrounding communities.

British-Nigerian actor David Oyelowo -- nominated for a Gold Globe Award for his portrayal of Martin Luther King in the 2014 drama "Selma" -- is also set to star in "Queen of Katwe".

Luggya hopes the film will "open doors" for all players in Uganda, saying: "I think Ugandans realise that it is a brain game that can enhance their potential in all other aspects of life."

Though the country now has east Africa's only International Master, Elijah Emojong, and the region's biggest number of titled players, Uganda still struggles with kit and trainers - normally volunteers -- plus sponsorship for overseas titles.

Mutesi is aware this may hold her back ultimately.

But while her goal is to rise to Grandmaster, she also hopes to become a paediatrician and open a home for children, especially girls facing the same predicament she overcame.

"Girls are always under-looked, even in chess," said Mutesi. "But I don't think there's any reason why a girl cannot beat a boy. It comes from believing in yourself."
Follow Emirates 24|7 on Google News.