Snake bites V8 Supercars champion Whincup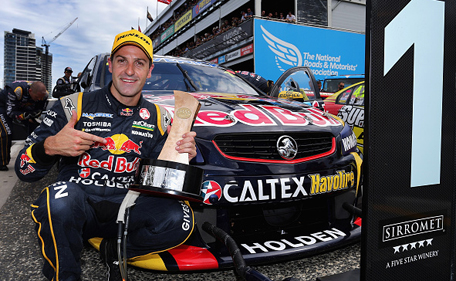 V8 Supercars champion Jamie Whincup got more than he bargained for at a promotional event on Thursday when a black-headed python sank its fangs into him.

The sport's undisputed number one, a six-time winner of the touring car championship, had renewed his contract with Red Bull Racing until 2018 and headed to Sydney's Taronga Zoo for the official announcement of the deal.

The python was draped around his neck while he held the trophy but the snake took exception, biting his right hand and holding on for a reported three minutes.

"Bucket list stuff today. Just got bitten by a snake," the Australian said on his Instagram account.

Black-headed pythons are non-venomous, but it left his hand a bloodied mess with a superficial wound, pictures showed.

"It was pretty painful," Whincup told Australian Associated Press.

"We pushed the friendship a little bit. We decided to have the snake round the championship trophy and we moved around a few times and it wanted to get out of there.

"Apparently the teeth go backward, so it's hard for it to release. We had to push it in harder to get it off."

Despite the drama, Whincup was not seriously hurt.

"I feel a little bit sorry for the zoo. We come out here to show how cool these reptiles are and this is unbelievably rare.

"I don't think they've ever had anyone ever get bitten and now, with all the TV cameras here, I get bitten in front of everyone."

Follow Emirates 24|7 on Google News.