Stage three Dakar wins for Al Attiyah, Coma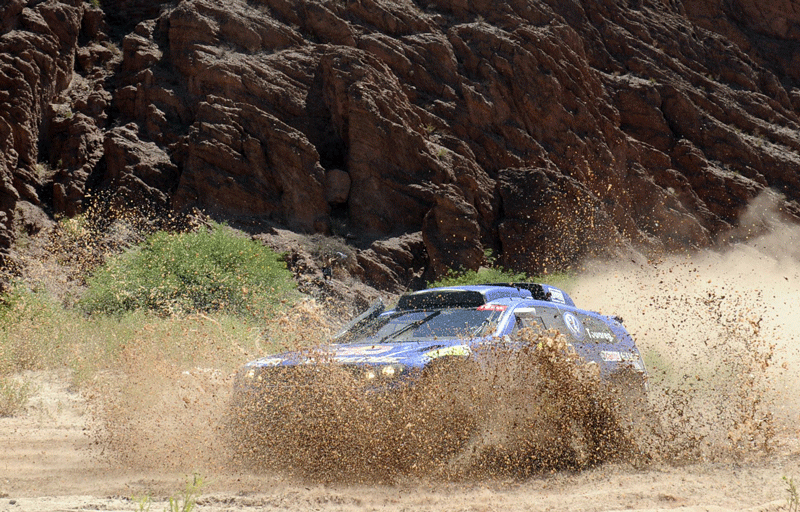 Qatar's Nasser Al Attiyah, driving a Volkswagen, won Tuesday's third stage of the auto section of the Dakar Rally, a 500km special stage between Tucuman and Jujuy in Argentina as he trimmed the overall lead of Spanish teammate Carlos Sainz.
Al Attiyah timed 3 hours 42 minutes 20 seconds as he clawed back 25 seconds on Sainz and pushed French BMW driver Stephane Peterhansel into third place after seeing off the latter by 59 seconds to go clear in second spot by 45 seconds.
Sainz, world rally champion in 1990 and 1992, still leads overall by 3 minutes 34 seconds.
In the motorbikes section, Spaniard Marc Coma, riding a KTM, won a 521km special from Tucuman to Jujuy in northern Argentina.
Coma's success saw him close in on the head of the standings as he crossed the line in 4hr 18min 55sec, 2min 2sec clear of current leader and French KTM rider Cyril Despres, the triple champion whose overall lead is now just 14 seconds.
Despite his win on the day, Al Attiyah complained that his engine lacked power and he felt he should have made far greater indroads into Sainz's lead.
"I am very disappointed. We had the same problems as yesterday (Monday)," said the Qatari. We completely lost power after 200 kilometres. I don't understand it. It's been going on for three days. We have to sort this problem out.
"I couldn't care less about our time or victory in the special stage. Tomorrow we will have the dunes and soft sand to contend with and it will be very serious" if the problem returns once more to haunt the challenger.
Sainz said the stage had been very tough from the outset.
But "I am more or less happy with my day. We lost a minute and a half on Nasser at the end of the first part before eventually pulling back the lost time by pushing harder in the final section without navigation."
Coma meanwhile revelled in his successful showing, which he dubbed "a real Dakar day. I am happy to be right up there - I took advantage of a small navigational error by Cyril Despres. Of course it is important to land a victory in the special stage - but my goal is to win the rally."
Despres noted for his part: "Marc Coma reined me in very quickly. There were a lot of people out there at the start of the special. I really paid attention for the first 10km but then on km11 I went completely off westwards. I didn't exactly lose two hours but I lost a few precious minutes," the Frenchman admitted.
Follow Emirates 24|7 on Google News.